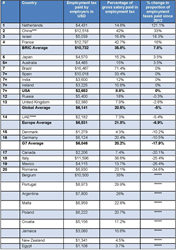 Sterling Heights, Michigan (PRWEB) February 23, 2016
Businesses in the US are paying out 8.8 percent of their employees' annual salaries in social security and other so-called employment "taxes", according to a new study by UHY, the international accounting and consultancy network.
This is well below the global average of $6,141 or 20.5 percent of salary.
UHY says that businesses in the US are now paying an average of $2,652 per year in employment "taxes" – on top of employees' wages – for an employee earning $30,000*.
UHY says that such proportionately low levels of employment costs could help boost job creation and real income growth.
UHY says there has been a global decline of under a tenth since 2012 in the amount that businesses have to pay in additional employment "taxes" on top of employees' wages, from 21.6 percent of an employee's salary to 20.5 percent (see attached table). However it says that the global average still remains persistently high, with many countries seeing double-digit percentage increases since 2012.
For example, according to UHY, employers in the Netherlands, China, Israel and France have had to bear substantial increases in the employment costs they pay for each employee in the last three years (see attached table)**.
Comments Dennis Petri of UHY Advisors, a member of UHY: "By keeping a lid on employment-related taxes, the US is helping to bolster competitiveness and underpin much-needed growth."
"At a time when the global economy is only gradually returning to health and the recovery is still very fragile, ensuring that revenue-raising policies don't disincentivize job creation and stifle income levels is more vital than ever."
China has seen one of the largest increases of any country in the study: the amount of 'tax' and social security payments paid by employers has increased by almost a third since 2012* from 31.6 percent to 42 percent. Chinese employers are now paying an average of $12,518 per year in employment costs for an employee earning $30,000, equating to 42 percent of an employee's salary.
UHY studied data in 29 countries across its international network, calculating the value of payments companies have to make, such as social security contributions, on top of the gross salary they pay to individual employees (see attached table).
Brazil still has the highest taxes and compulsory insurance costs for employers of any country in the study at 71 percent of a $30,000 salary. At $21,408 in payments on top of salary, this is over 19 times higher than the country with the lowest employment costs in the study – Egypt, where firms pay just 3.7 percent extra ($1,108).
Significant differences in employment costs across G7 economies
Overall, businesses in the G7 economies saw their social security and other employment costs fall by almost a fifth over the same period (from 24.6 percent to 20.2 percent), meaning that they now tax less than the global average at 20.5 percent of an employee's salary. They now pay $6,050 in such additional costs - $482 less than three years ago.
However, while several G7 nations – notably Canada, the US and the UK – have comparatively low employment costs (ranging from 7-9 percent for low earners) France and Italy's costs remain high (at 42.7 percent and 38.6 percent). This is despite Italy seeing these costs decrease by over a quarter since 2012 – one of the biggest falls in the study.
At 8.8 percent, the US now has the third lowest employment costs in the G7 nations for an employee earning $30,000. These same "taxes" are now almost half the rate as they are in Japan, where the cost is 15.2 percent.
Increased prevalence of targeted incentives to tackle unemployment
UHY adds that many countries seek to tackle unemployment and minimize its impact on their welfare budgets by incentivizing employers to create new jobs. These are often targeted at specific groups such as the unemployed, or those starting their first jobs.
Dennis Petri explains: "Governments recognize the logic of reducing employment taxes, but many fear that across-the-board cuts cannot be afforded, particularly given the costs associated with ageing populations."
"Increasingly we are seeing targeted measures as a compromise. For example, in Canada employers can receive tax credits for newly-qualified employees, whilst in the UK, since 2015, employers pay less National Insurance for employees aged under 21."
"However, too many exemptions can lead to an overly complex tax code."
Tax, social security and other payments made by businesses on top of gross salaries by USD and payments as % of gross salary 2015 – ranked by percentage change since 2012
GROSS ANNUAL SALARY of USD 30,000
(see attached image for table)
*Based on a gross annual salary of $30,000
**The other salary brackets examined are ($15,000, $30,000, $75,000 and $300,000) and can be consulted in the supporting report at http://www.uhy.com/wp-content/uploads/UHY-study-on-employment-taxes-Report.-2016-02-17.pdf
***Based on figures for Shanghai as a representative city of Chinese costs
****Including levies
*****Unranked as 2012 data unavailable
###
About UHY LLP
UHY LLP, a licensed CPA firm, provides audit and other attest services to publicly traded, privately owned and nonprofit organizations in a number of industry sectors. UHY Advisors provides tax and advisory services to entrepreneurial and other organizations, principally those enterprises in the dynamic middle market.
UHY LLP, operating in an alternative practice structure with UHY Advisors, forms one of the largest professional services firms in the US. While that scale might provide confidence for some clients, others tell us our greatest value is the way we bring these resources to bear to help address today's evolving business challenges. It's a philosophy we call "The Next Level of Service". To learn more visit http://www.uhy-us.com.
All of the above entities are members of UHY International ("UHYI"), a worldwide network of independent professional services firms that provide audit, tax and advisory services around the globe. UHYI is ranked among the top international accountancy networks and a proud member in good standing of the Forum of Firms. Collectively, our US operating entities (UHY LLP and UHY Advisors) are the largest independent members of UHYI with significant participation, bringing the power of our international network to serve the individualized needs of our clients.
UHY press contact: Dominique Maeremans on +44 20 7767 2621
Email: d.maeremans(at)uhy(dot)com - http://www.uhy.com
About UHY, the network
Established in 1986 and based in London, UK, UHY is a network of independent audit, accounting, tax and consulting firms with offices in over 296 major business centres across more than 89 countries.
Our staff members, over 7,660 strong, are proud to be part of the 16th largest international accounting and consultancy network. Each member of UHY is a legally separate and independent firm. For further information on UHY please go to http://www.uhy.com.
UHY is a full member of the Forum of Firms, an association of international networks of accounting firms. For additional information on the Forum of Firms, visit http://www.forumoffirms.org
UHY is an international association of independent accounting and consultancy firms, whose organising body is Urbach Hacker Young International Limited, a UK company. Each member of UHY is a separate and independent firm. Services to clients are provided by the UHY member firms and not by Urbach Hacker Young International Limited. Neither Urbach Hacker Young International Limited nor any member of UHY has any liability for services provided by other members.