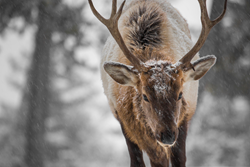 Animals whose migration routes pass through the Greater Yellowstone Ecosystem face real issues as they travel within the region.
Cody, Wyoming (PRWEB) February 23, 2016
Animals whose migration routes pass through the Greater Yellowstone Ecosystem face real issues as they travel within the region. The Draper Natural History Museum of the Buffalo Bill Center of the West highlights their stories in the upcoming exhibition, Invisible Boundaries: Exploring Yellowstone's Great Animal Migrations, opening May 27, 2016.
Organized by the Draper Museum, Invisible Boundaries demonstrates that drawing political lines on a map, without attention to historical and critical movement patterns of wildlife, is a recipe for conflict. When searching for winter resources, animals like elk and deer exit the Park and migrate into surrounding multiple-use and private lands, crossing human-imposed boundaries. Indeed, those borders, i.e. national parks and forests, tribal lands, state governments, and the like, don't really exist for the wildlife of the area.
The long-term conservation of Yellowstone's migratory wildlife depends on the actions of landowners and other stakeholders far beyond national park borders. Invisible Boundaries uses stunning photographs and video, interactive migration maps, cultural objects, and original artwork by James Prosek to convey the compelling story of animal migrations of not only the Greater Yellowstone Ecosystem, but those of humpback and gray whales, monarch butterflies, and Swainson's hawks, among others. Then, the exhibition examines the reasons behind these amazing journeys and shares cutting-edge conservation science in one of the world's most renowned natural heritage sites.
"We are proud to join with the National Park Service in observance of their 100th Anniversary this year," Charles R. Preston, Draper Museum curator says. "Invisible Boundaries is an excellent way for us to share in that celebration."
The Center of the West has organized Invisible Boundaries through its Draper Natural History Museum and Whitney Western Art Museum, in partnership with Yale University's School of Forestry and Environmental Studies, the Yale Institute for Biospheric Studies, the Wyoming Migration Initiative of the University of Wyoming, and with exhibition designer, Split Rock Studios. The exhibition is supported in part by the William H. Donner Foundation.
Read more about the exhibition on the Center's website
___________________________________________________________________________________________________________________________________
Since 1917, the award-winning Buffalo Bill Center of the West in Cody, Wyoming, has devoted itself to sharing the story of the authentic American West. The Center, an affiliate of the Smithsonian Institution, is open 10 a.m. – 5 p.m. Thursday – Sunday, closed Monday - Wednesday. Starting March 1, the Center is open daily, 10 a.m. – 5 p.m. For additional information, visit the Center's website or its pages on Facebook and Google+.