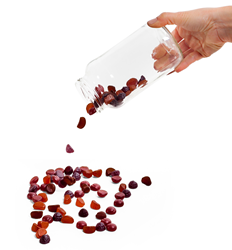 St. Louis, Missouri (PRWEB) February 23, 2016
Sensient® Pharmaceutical, a division of Sensient Technologies (NYSE:SXT) today announced the introduction of a new line of products under the Flexicoat™ brand. The innovative Flexicoat system incorporates breakthrough technology that overcomes "stickiness", a key long-standing challenge faced by manufacturers of gummies, soft chews, and lozenges.
The Flexicoat formulation has the ability to effectively coat pliable substances to keep them from sticking, but is still flexible enough to hold up to the expansion and contraction of the base material. The flexible nature of the coating system makes it ideal for application on a broad range of product forms including gummies, soft chews, and lozenges as well as substrates with low melting temperature, heat sensitive products, and more.
A key advantage of the new technology is versatility. "FlexiCoat is fully customizable to meet our customers' needs for natural or synthetic color, flavor, flavor masking and special appearance effects in a non-stick formulation. This Flexicoat system improves product appearance in packaging and eliminates clumping of gummies or lozenges for greater consumer ease of use," explained Houston Smith, Technical Director of Sensient Pharmaceutical.
"Flexicoat, the culmination of a long term R&D initiative, will provide the pharmaceutical and nutraceutical industries with important benefits. We are excited about the possibilities that Flexicoat creates for brands to differentiate their products in the marketplace" stated Mike Geraghty, President of Sensient Colors.
Manufacturers will be able to markedly enhance consumer experience by employing Flexicoat™ for smooth mouth-feel and enhanced flavor profiles.
About Sensient Pharmaceutical
Sensient Pharmaceuticals brings life to products, adding performance and sensory appeal to pharmaceutical and nutraceutical applications worldwide. Offering unparalleled innovation and proprietary technologies, Sensient Pharmaceuticals applies industry defining expertise to enhance brand value. Sensient Pharmaceuticals is located in St. Louis, Missouri.
About Sensient Technologies
Sensient Technologies Corporation is a leading global manufacturer and marketer of colors, flavors and fragrances. Sensient employs advanced technologies at facilities around the world to develop specialty food and beverage systems, cosmetic and pharmaceutical systems, inkjet and specialty inks and colors, and other specialty and fine chemicals. The Company's customers include major international manufacturers representing most of the world's best-known brands. Sensient is headquartered in Milwaukee, Wisconsin.