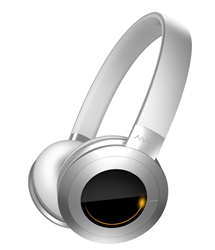 "Our vision is to bring Aivvy to all audio devices so fans can enjoy a truly personal music experience wherever they are," said Aivvy co-founder, David Ring.
Redwood City, CA (PRWEB) February 23, 2016
Aivvy, Inc., (pronounced "ivy") a technology innovation company, today officially announced the launch of its Aivvy Headphone and cloud-based Music Service. The company's intention is to simplify and improve the way music fans discover and enjoy music by bundling together audio hardware, intelligent software and a music service into a single, easy-to-use device. The Aivvy Headphone, an Innovation Award Honoree at the recent Consumer Electronics Show (CES) in Las Vegas, will be available through retail and the company's website in Q3 2016.
Unlike other premium quality headphones, Aivvy incorporates its intelligent music platform which caches music on the device itself and learns a user's preferences through simple touch gestures made on the outside of the device. While the device comes with eight pre-populated music channels, enabling an instant music experience right out of the box, users can customize their channels via the Aivvy companion app, the Aivvy website, or by simply liking or skipping tracks on the device itself. When charging, the headphone connects to the Aivvy Cloud where preference and behavioral data are analyzed and the user's music channels are refreshed.
Aivvy provides an untethered music listening experience, eliminating the need for other devices and the limitations of wires, Wi-Fi or internet connectivity. That same smart music platform can be integrated into other devices, like ear buds, portable speakers, sound bars and car audio systems.
As a proof of concept, Aivvy partnered with Monster for CES this year where Monster featured a co-branded Monster Inspiration Traveler Headphone "Powered by Aivvy." The product generated significant excitement from retail buyers, OEM manufacturers and music aficionados alike, setting the stage for future co-branding opportunities with other top consumer electronics brands.
"Our vision is to bring Aivvy to all audio devices so fans can enjoy a truly personal music experience wherever they are," said Aivvy co-founder, David Ring. "We are combining high quality audio products and an intelligent music platform into any device with a speaker—delivering a revolutionary "heads up" music listening experience that can be immediately and easily enjoyed by anyone, anywhere, anytime."
How Aivvy Works
The Aivvy platform acts as a 'personal DJ' allowing music fans to explore diverse, customizable music channels with access to millions of tracks in the Aivvy Cloud. The first "Internet of Things" (IoT) headphone bundled with a music service makes it possible for listeners to swipe and tap the device to inform Aivvy of music preferences. Aivvy's smart technology then automatically delivers a personalized, constantly refreshed, interactive radio experience for music fans based on preferences captured through the device itself. Listeners can use the Aivvy mobile app to create unique music experiences and customize playlists based on the music they love, by favorite artists, songs or genres.
About Aivvy
Aivvy, Inc. is a technology innovation company founded in 2014 by a team of engineers and business executives from Sony, Google, Intel and Universal Music Group with backgrounds in music, audio engineering, cloud computing, data science and hardware design. The Company has developed the world's first IoT (Internet of Things), personalized music platform, combining audio headphones, smart software and a cloud-based music service into a single device to deliver 'Personalized Radio' anywhere. The Aivvy technology platform can also be utilized to power any audio-enabled device, from speakers to TVs to tablets to automobiles.
For more information about Aivvy, please visit http://www.aivvy.com or follow on Twitter at http://www.twitter.com/aivvy.