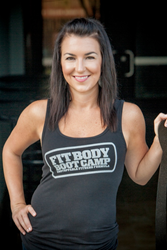 I want to empower people with the right knowledge when it comes to fitness and nutrition
Orange Park, Florida (PRWEB) February 23, 2016
Billie Young, currently the owner of Jacksonville Fit Body Boot Camp will be opening a second location in Orange Park on March 14th with new member orientations taking place on March 12th and 13th. Current clients of Young's Jacksonville location tell the stories of the success they've found under her guidance in support of the expansion.
Fit Body Boot Camp is the world's fastest growing and most popular indoor fitness boot camp brand, with hundreds of locations worldwide. The boot camp's unique brand of fitness combines individualized personal training from licensed professionals, clinically proven Afterburn workouts, and nutritional guidance to guarantee weight loss results.
Billie became a fitness coach as a way of passing on her own success to others. "I want to empower people with the right knowledge when it comes to fitness and nutrition so they can go on to live healthier, happier lives. As a former Fit Body Boot Camp client I fell in love and it would be an injustice to keep that to myself."
Jonathan and April Abbott joined Jacksonville Fit Body Boot Camp as a married couple trying to get pregnant. "Since I have PCOS (Polycystic Ovary Syndrome), getting pregnant wasn't happening because I was overweight," explains April. "Unfortunately many women who have PCOS have trouble losing weight, but I was pregnant at my first infertility consultation thanks to Billie and her team."
The Abbott's aren't the only ones with positive medical results, either. "I now have a life-long passion for fitness and a healthy relationship with food as fuel for my body," says Savannah Geisler, who was able to drop her cholesterol by 50 points.
Gary Harlow was recently able to complete a bucket list item of his to complete the Grandfather Marathon. "I've been attending boot camp for almost 2 years and have improved my VO2 max substantially. I started while searching for a way to support my running program, and I found what I needed."
Billie hopes to have even more success stories to share once her second location is open. Her Jacksonville location reached it's capacity, so by expanding her team will be able to reach more people and create a boot camp location convenient to more community residents.
About Orange Park Fit Body Boot Camp:
Orange Park Fit Body Boot Camp is a part of the Fit Body Boot Camp family of indoor fitness boot camps, whose global goal is to engage 20% of the world's population in a healthy and fit lifestyle by the year 2020. Orange Park Fit Body Boot Camp is owned and operated by Billie Young. Young is committed to helping members of the Orange Park community set and accomplish their own health and fitness goals.
For more information about Orange Park Fit Body Boot Camp, please call: (904) 541-6271
Or email the address attached