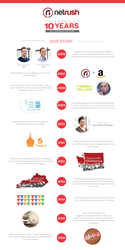 The growth and evolution of NetRush has been a journey of passion, and a great source of enjoyment
Vancouver, Washington (PRWEB) February 23, 2016
NetRush, Inc., a collaborative retail partner to premium brands, is celebrating its tenth anniversary in February. During the same month, NetRush, Inc. is planning to expand its sales reach to Canada, signaling the company's first step towards duplicating its success in an international market.
Established in February 2006, NetRush, Inc. is the digital brainchild of co-founders, Brian Gonsalves and Chris Marantette. By working directly with brands to position, optimize and control their presence on Amazon's marketplace, the pair have built NetRush, Inc. into an e-commerce powerhouse on the strength of their partnerships.
"We are thankful to our brands who have made the last ten years possible," said Chris Marantette, who was named to Portland Business Journal's 'Forty Under 40' class on February 18th. "How we do business and who we do business with is what makes our company unique. It's been a great decade and we're very excited about what's to come for the NetRush family."
In December, 2015, NetRush moved its headquarters to a new location in Vancouver, Washington, to accommodate the rapid growth of the company. The move is proving highly valuable, as several Oregon and Washington-based brands have signed onto NetRush's Strategic Retail Model for 2016, to optimize their brand on the Amazon marketplace.
"One of our company's core principles is 'Enjoy The Ride', which speaks volumes about how we approach our craft. The growth and evolution of NetRush has been a journey of passion, and a great source of enjoyment," Gonsalves said. "When you show up at work each day, you're always walking away from something else: family, friends, passion projects. It's a tradeoff of time, so loving what you do and how you spend your time with the people matters."
About NetRush
NetRush, Inc. collaborates with premium brands on the Amazon marketplace. As agents of growth, we serve our partners by translating their story to target consumers. By understanding a brand's vision and working towards achieving those goals, NetRush creates unique marketplace opportunities and customer experiences that set products apart from the crowd.