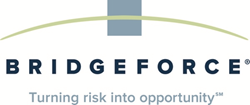 Chadds Ford, PA (PRWEB) February 23, 2016
Bridgeforce, a multi-national consulting firm focusing on consumer and small business lending and payments, formalizes long-running company-sponsored philanthropic activities with a program that provides time and monetary donations to charities that are important to employees. Also folded into the program is an annual identification and support of charitable events important to colleagues in the industry.
The program provides Bridgeforce employees with an extra two paid days off per year to participate in or manage a volunteer event. Upon the event's completion, the employee can submit a summary about their event and volunteer efforts to the Community Involvement Program (CIP) Committee. The CIP Committee reviews the employee summaries and those receiving the highest evaluation receive a company donation to their charity.
"There is a greater world beyond the daily work we do and as a company, we recognize the importance of giving back to that larger community," said Michelle Macartney, Managing Director of US Banking and manager of the Bridgeforce CIP. "This program gives employees the time to participate in charitable events they are passionate about and encourages our team to become involved in philanthropic work."
The first employee-related recipients of Bridgeforce donations were announced this week and included work in support of breast cancer awareness and youth education on wildlife habitat conservation topics with a focus on youth participation in outdoor activities and good stewardship of our open spaces.
About Bridgeforce
Bridgeforce is a specialized multi-national consulting firm serving a variety of clients involved in almost all aspects of the consumer and small business lending and payments space. Over 75 percent of Bridgeforce consultants come directly from client-side leadership positions across multiple parts of the credit lifecycle. Combined with subject matter expertise in operations, technology, strategy and regulatory issues, Bridgeforce has the knowledge and experience to make the hard choices in developing and implementing best-fit solutions that are both achievable and lower the risks of execution to ensure sustainability. Bridgeforce success can be attributed to a culture fostering innovation and evolving experienced-based best practices recognized within the industry. For more information, visit http://www.bridgeforce.com.