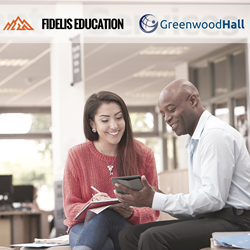 We believe combining technology with success coaching has powerful ramifications for student learning and success!" - John Hall, CEO & Co-Founder Greenwood Hall
(PRWEB) February 25, 2016
Fidelis Education, the pioneer of Learning Relationship Management, and Greenwood Hall Inc. (OTCQB:ELRN), an education technology company that helps higher education institutions increase revenue and improve student engagement and outcomes through coaching and mentoring, announce their partnership that ultimately promises "powerful ramifications for student learning and success". The combination of learning relationship management with coaching and mentoring will be a gamechanger for any institution looking to drive student outcomes. Both companies will be co-hosting a webinar titled "Jump-start A Coaching Program, Today!" (use link below to register) in conjunction with this partnership.
Gunnar Counselman, CEO & Founder of Fidelis Education is "thrilled at how many people believe in the philosophy of Learning Relationship Management, but it can be challenging to build a coaching and mentoring program from scratch, which is why [Fidelis] has asked Greenwood Hall to combine efforts".
Learning Relationship Management is an end-to-end student lifecycle management tool for higher education that makes learning more personal and purpose-drive for students. By combining this state of the art SAAS platform with a coaching service, it fills an important gap for institutions in trying to reach their student success goals as they relate to conversion, retention, and graduation.
As mentioned above, in conjunction with this new partnership, Fidelis Education and Greenwood Hall will be hosting a 60-minute learning professional development webinar titled "Jump-start A Coaching Program, Today". Gunnar Counselman and Josh Cage, EVP of Greenwood Hall will present specifically on concrete steps to building a coaching program.
Register for the #Relate2016 webinar "Jump-start A Coaching Program, Today!" on March 2 at noon PST here.