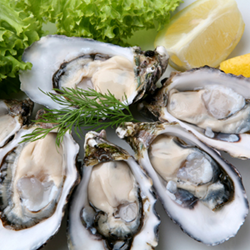 "It's shucking time again!" Myles O'Reilly
San Francisco, California (PRWEB) February 24, 2016
O'Reilly's Productions announces the 17th Annual San Francisco OysterFest in Sharon Meadow on Saturday, May 7, 2016, from 11:00 a.m. to 6:00 p.m. This event is the largest Oyster festival on the West Coast drawing over 300,000 people to date. Over half a million succulent oysters have willingly sacrificed themselves over the years and with succulent fresh oysters from a variety of oyster farms across the Pacific Coast there's even more to enjoy at this year's Oysterfest.
This year's festival line up, headlined by Chromeo, will have support acts including IamSu!, Kinky, De Lux and Miguel Migs.
Chromeo is a Canadian electro-funk duo from Montreal, formed in 2002 by musicians David "Dave 1" Macklovitch and Patrick "P-Thugg" Gemayel. Featuring a sound influenced by blue-eyed soul, dance music, rock, and varied styles, they've released four studio albums, their latest being 2014's White Women,
IAMSU! is an emerging emcee/producer and Heartbreak Gang member from Richmond, California. Since stepping foot in the game in 2009, he's released eight mixtapes and collaborated with John Hart, Problem, Wiz Khalifa and many more. In 2014 he released his debut album Sincerely Yours.
After four studio albums, Monterrey, Mexico's KINKY are still doing it, and doing it well. Since their self-titled debut release in 2002, the band has received multiple nominations from both the Latin Grammy Recording Academy and the Latin MTV Video Music Awards (including a 2008 nomination for Best Alternative Group). The group has toured with artists as legendary and diverse as the Flaming Lips, Shakira, Los Lonely Boys, Cake and De La Soul, and has commanded the stage at large festivals such as Coachella, Voodoo Music Experience and Central Park Summer Stage. They've also had great success in the TV/film world with over 60 placements in TV shows (like 90210, CSI Miami and Dexter), commercials (Nissan and Pontiac) and video games (EA's Need For Speed 2009).
O'Reilly's Productions is proud to feature such an amazing and diverse line up of talent, a show truly not to be missed.
The 17th Annual San Francisco OysterFest stands out among other Bay Area festivals because of its brilliant blend of music, oysters and Guinness stout. Although oysters are king here, there's also a wide range of food from some of San Francisco's finest restaurants with an emphasis on providing healthy, local, and sustainable products. A wide variety of beverages will also be available, ranging from lager, stout, ale wine and premium spirits. A boutique festival, The 17th San Francisco Oysterfest's intimate setting and size make it a welcome relief from today's monster festivals.
Activities at the 17th Annual San Francisco Oysterfest include the ever-popular "Shuck and Suck" competition and cooking demonstrations. Additionally, there will be a spacious play area set aside for children, a dog's shady area and live art demonstrations.
In cooperation with San Francisco Parks and Recreation, the festival supports San Francisco's goal of achieving zero waste truly green. Please help us support San Francisco with its goal of achieving zero waste. All food and beverage containers are compostable.
EVENT DETAILS: 17th Annual San Francisco OysterFest Saturday, May 7, 2016 11:00 a.m. – 6:00 p.m. Sharon Meadow, Golden Gate Park 300 Bowling Green Drive San Francisco, California 94117 TICKETS: $45 in advance, tickets available at http://www.oysterfestsf.com
More information can be found on: Facebook: https://www.facebook.com/SanFranciscoOysterMusicFestival Twitter: http://www.twitter.com/SF_OysterFest
NOTE: Children under the age of 12 accompanied by a parent are admitted free.