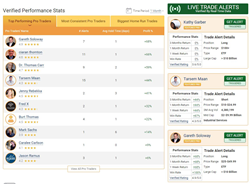 Verified Investing tracks pro traders from all over the world, verifying their trading results. Never again will investors worry they are seeing false stats prior to following a so-called "pro."
Miami, FL (PRWEB) February 25, 2016
On February 15, 2016, Verified Investing debuted an independent tracking website to police pro traders and stock trade alert websites. The goal of Verified Investing is to have total transparency, making investing performance public to the world. Over the years, millions of investors have lost money from bad trade alerts given by so called "pros." Verified Investing tracks every trade given by every pro trader, using real time quotes. Thousands of these Verified Track Records are displayed to the public, giving total transparency.
VerifiedInvesting.com also debuted a never-before-seen structure, getting rid of subscription fees forever. This structure enables users to find a Verified pro trader, and opt into a single trade alert anytime they have money to invest. Opting into a trade alert is 100% free, and the user only pays a small fee of a few dollars if the pro trader gives winning trade alert information. Just about every other financial trade alert website makes users pay a subscription fee upfront, no matter if they get winning or losing trades. VerifiedInvesting.com gets rid of the "pay up front" model. They believe pros should only get rewarded when they help average investors succeed in the stock market.
How does it work? If an investor has some money to invest, they can go to VerifiedInvesting.com and look at Verified stats of thousands of pro traders from all over the world. They can choose any criteria they wish, whatever fits their investing style. The website allows users to simply opt in, getting the trade alert symbol, entry price, stop and expected profit target. Again, opting in is free, and a user only pays a small fee if they get winning trade alert information.
VerifiedInvesting.com aims to disrupt and improve its industry like Uber, Airbnb and Amazon.com did. No longer will an average investor pay a subscription fee, win or lose, or trust a track record posted by any website or pro trader. VerifiedInvesting.com has given control back to the investing public.