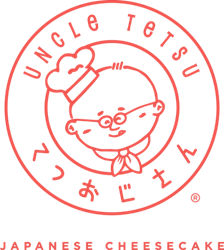 Honolulu, Hawaii (PRWEB) February 23, 2016
Uncle Tetsu® Japanese Cheesecake, an international Japanese bakery known for fresh, handmade cheesecakes, today announced the opening of its first U.S. location in Honolulu. The establishment, located on the second level food court of the Royal Hawaiian Shopping Center at 2233 Kalakaua Ave, will open its doors to guests at 10:00 a.m. on Tuesday, March 1. In partnership with Panda Restaurant Group, the new location will offer residents and travelers a taste of its Asian-inspired artisanal baked goods and soothing teas.
Founded in Hakata, Japan in 1985 by Tetsushi Mizokami, Uncle Tetsu Japanese Cheesecake is widely known for its sweet and fluffy cheesecakes that are baked fresh in small batches daily and served straight from the oven. The secret to Uncle Tetsu Japanese Cheesecake's delicious desserts is in the ingredients and method which Mizokami developed from helping at his father's sweets shop from the young age of five. Uncle Tetsu Japanese Cheesecakes have become an international phenomenon and are carefully crafted with the highest-quality ingredients and finished with the Uncle Tetsu trademark stamp atop the cake. Different than the familiar American cheesecake, Uncle Tetsu Japanese Cheesecake's unique options are admired for their lighter quality and balanced sweetness that provide the perfect taste and texture combination. The Honolulu location will serve indulgent selections such as Original Japanese Cheesecake, delicious cookies including Madeleines, Cheesecake Biscotti & Ooey Gooey Cookies along with an expansive lineup of tea at the Tea Bar.
"Since I started my first restaurant in Hakata, we have been working diligently to share our tasty Japanese cheesecakes with the rest of the world and have opened over 80 stores across the globe," said Tetsushi Mizokami, president of Uncle Tetsu Japanese Cheesecake. "Expanding into the U.S. has been a dream for our family-owned business and we are honored to have the chance to grow our fan base here in Honolulu."
The Honolulu location will be owned by Andrew and Peggy Cherng, founders of Panda Restaurant Group which owns Panda Express, America's favorite Chinese kitchen. The expansion of Uncle Tetsu Japanese Cheesecake into the U.S. comes at an ideal time as the Cherngs continue to partner and help successful restaurant chains grow within the United States. Through this relationship, the Uncle Tetsu Japanese Cheesecake organization will have access to the Cherng's 40-plus years of restaurant industry and organization-building experience.
"We look forward to the opportunity to work with Uncle Tetsu Japanese Cheesecake and support its growth within the U.S. market," said Andrew Cherng. "Through this partnership we will offer our Panda insight and culture-building expertise to help make Uncle Tetsu Japanese Cheesecake the go-to destination for authentic Asian dessert options."
In addition to the Honolulu location, the Cherngs are also set to open another Uncle Tetsu Japanese Cheesecake restaurant in Arcadia, Calif. later this year.
For more information on Uncle Tetsu Japanese Cheesecake and its signature Asian-inspired menu options, please visit uncletetsu-us.com. For more information on the Panda Restaurant Group, please visit pandarg.com. For media inquiries, contact panda(at)havasformula(dot)com.
About Panda Restaurant Group
Founded in 1973, the privately-held Panda Restaurant Group is the world's leader in Asian dining experiences with almost 1,900 locations. The successful chain of concepts includes Panda Express, Panda Inn and Hibachi-San. Panda Express is best-known for its wide variety of original recipes including its Original Orange Chicken™, SweetFire Chicken Breast®, award-winning Honey Walnut Shrimp and Shanghai Angus Steak. For more information, visit pandarg.com.
About Uncle Tetsu Japanese Cheesecake
Founded in 1985 by Tetsushi Mizokami, Uncle Tetsu® Japanese Cheesecake is an international Asian-inspired bakery best-known for its homemade Japanese Cheesecakes. There are over 80 Uncle Tetsu Japanese Cheesecake locations across the world, each providing guests with its signature sweet and fluffy cheesecakes marked with the infamous Uncle Tetsu character stamp. For more information on Uncle Tetsu Japanese Cheesecake, visit uncletetsu-us.com.