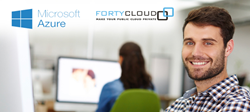 "We're thrilled to be working with FortyCloud to help deliver a comprehensive, agile security platform to customers."
(PRWEB) February 24, 2016
The FortyCloud solution bundles core network security components into a single, integrated product delivered in a Software-as-a-Service model. By utilizing FortyCloud's flexible, end-to-end solution, Azure users can build their network security solution over any number of data-centers and in any topology.
FortyCloud's Cloud Infrastructure Security Broker (CISB) solution is comprised of four layers:

Secure network layer provided by the FortyCloud software elements including firewall, identity and access management, VPN connectivity and more.
Abstraction layer unifying multiple cloud platforms to allow single policy language and ubiquitous network security capabilities.
Automation and orchestration layer providing flow-through configuration of the entire cloud deployment using policies and APIs as well as auto-discovery and auto-configuration of cloud resources.
Network visibility layer providing real-time view of the cloud deployment, collection of events, alerts generation and integration with external SIEM (security information and event management) and IDS (intrusion detection system) solutions.
The FortyCloud solution can be added to existing Azure deployments, with any VNet setup and of any scale. It can be deployed on Azure as well as on other private or public cloud platforms. Azure users are provided with a 30-day trial period in which they can receive free training and consulting from the FortyCloud cloud experts, and also test-drive the FortyCloud solution.
"Many enterprises are choosing Microsoft Azure as their strategic cloud platform," said Amit Cohen, CEO of FortyCloud. "At ForyCloud, we aim to make network security available at a mouse-click, and it was therefore important for us to integrate with the Microsoft Azure Marketplace. Microsoft Azure users can now take advantage of our Cloud Infrastructure Security Broker solution to enhance, automate and scale network security in the cloud."
"Enhanced security is a priority for many of our customers," said Nicole Herskowitz, senior director of product marketing, Microsoft Azure, Microsoft Corp. "We're thrilled to be working with FortyCloud to help deliver a comprehensive, agile security platform to customers."
To start using FortyCloud on Azure today visit the FortyCloud solution page on the Azure marketplace.
About FortyCloud
FortyCloud is an innovator in cloud security, offering the industry's most comprehensive network and access security solution for public and hybrid cloud infrastructure deployments. The company's innovative solution incorporates Software Defined Security (SDS) and Software Defined Networking (SDN) to enable enterprises deployed in the cloud to build their own secure virtual private network over any number of cloud data-centers and platforms. Its award winning SaaS solution was launched in 2014 and has been since widely deployed on all major cloud platforms by worldwide customers and partners. For more information, visit http://www.fortycloud.com