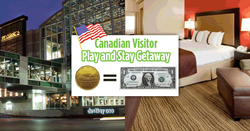 Great value on lodging and entertainment has always been important to our Canadian guests, and we're excited to partner with our nearby Holiday Inn to extend even greater savings to our Canadian visitors than ever before."
Syracuse, NY (PRWEB) February 23, 2016
Canadians looking for true dollar-for-dollar matching on a United States getaway can find it at Destiny USA, New York State's largest shopping, dining and entertainment destination, and the Holiday Inn Syracuse/Liverpool. Now through April 30th, Canadians with proof of Canadian residency will enjoy exclusive "at par" savings on a special Destiny USA and Holiday Inn Syracuse/Liverpool bundle of lodging and entertainment—a first-of-its-kind promotion in Central New York.
The combined rate being offered is based on an average exchange rate of 30%, covering the difference of a 30-cent-on-the-dollar conversion from Canadian to U.S. dollars, making the two virtually equal. The package includes:
Holiday Inn Room (Double Beds or King)

Regular Price (USD): $149*
Promotional Price (USD): $75**
Destiny USA Day Passes (2)

Regular Price (USD): $96
Promotional Price (USD): $67**
Total

Regular Price (USD): $245
Promotional Price (USD): $142***
Regular room rate varies by date. Cost shown is only an estimation.
** Discounted promotional prices are fixed based on an "At Par" value set at the start of the promotion.
*** Plus 13% sales & room occupancy and 8% sales tax on Day Pass. Subject to availability.
Holiday Inn Syracuse/Liverpool Lodging Details:

Promotion only valid at Holiday Inn Syracuse/Liverpool location (441 Electronics Pkwy, Liverpool, NY 13088)
Kids 12 and under stay and eat free with parents
Indoor heated swimming pool
Complimentary 24-hour shuttle to Destiny USA
Package can be purchased by calling 315-457-1122
Additional Details are available at http://www.staysyracuse.com/staysyracuse-holiday-inn/specials.php.
Destiny USA Day Pass Entertainment Details:
The Destiny USA Day Pass lets you choose any four of the participating attractions at Destiny USA, with savings of up to 50%, if purchased individually:

5 Wits - One adventure
Amazing Mirror Maze - general admission
Billy Beez - general admission (one adult included with child redemption)
Canyon Climb Ropes Course - One ropes climb
Dave & Buster's - $10 Power Card
Glow Golf - One round of indoor glow golf
Lazer Tag - One game of lazer tag at WonderWorks
Margaritaville - One margarita with take home glass, or one appetizer
OptiGolf - 30 minutes of golf, including club rental
Pole Position Raceway - One race and temporary license fee waived
Revolutions - 2 games of bowling, including socks/shoes
Sky Tykes Ropes Course - One ropes climb
WonderWorks - general admission
Valid for 4 individual entries within 24 hours of initial activation at participating Destiny USA attractions + 1 ride on the antique carousel.
"This type of Canadian cross-border incentive program is a game-changer for Canadians, who have told us time and time again that they're looking for area businesses to meet them at least halfway during times of dollar disparity," said David Holder, president, Visit Syracuse. "This type of partnership and collaboration between Destiny USA and the Holiday Inn speaks to the strength of area businesses coming together to drive economic growth through tourism, and we hope other area business follow suit with similar incentive programs."
###
About Destiny USA
Shopping, dining and entertainment so big, it needed its own zip code. Welcome to Destiny USA—New York's largest destination of its kind with over 250 places to shop, dine and play, visited by 26 million guests every year. From an antique carousel to the world's largest suspended ropes course at WonderWorks to tropical destination Margaritaville, Cheesecake Factory and retail and outlet brands like Apple, Nordstrom rack, Michael Kors and more, there's something for everyone at Destiny USA. And all of it under one roof with perfect weather year round. Discover the Destiny USA experience and plan your next visit at http://www.destinyusa.com.