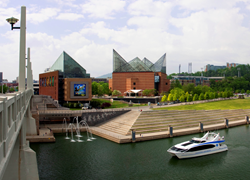 "I think the Aquarium's Board of Trustees made an excellent choice," said Aquarium president and CEO Charlie Arant. "Keith will bring his experience, expertise and energy to a team of seasoned Aquarium leaders, staff and volunteers."
Chattanooga, TN (PRWEB) February 23, 2016
FOR IMMEDIATE RELEASE
Contact: Thom Benson 423-785-3007 tlb(at)tnaqua(dot)org
Contact: Robin Derryberry 423-755-7588 Robin(at)DerryberryPR(dot)com
Keith Sanford Named Tennessee Aquarium President and CEO
Former First Tennessee Market President to Succeed Charlie Arant
Members of the Tennessee Aquarium's Board of Trustees have elected Keith Sanford as President and CEO. Sanford succeeds Charlie Arant who has served as the Aquarium's President and CEO for more than 20 years. Sanford will become the Aquarium's fourth president and CEO when he officially assumes his new role on March 1st.
"We knew we had some big shoes to fill in finding a candidate to continue Charlie Arant's great work," said John Giblin, Executive Vice President & Chief Financial Officer of BlueCross BlueShield of Tennessee. Giblin served as Chair of the Aquarium Board of Trustees' search committee. "After a thorough search and review of more than 100 applications, we determined the best person to be the next CEO of one of our city's most cherished institutions was someone who has devoted his entire career to improving the Chattanooga community. Keith's record of achievement during his long tenure at First Tennessee speaks for itself. He will be an exemplary leader for the Tennessee Aquarium."
Sanford is well known and respected throughout Chattanooga, both professionally and for volunteer service, lending his business expertise and leadership skills to many of the area's top non-profit organizations.
For the past 36 years Sanford has been employed at First Tennessee, rising in banking and finance from his start as a management trainee to serving for the past five years in the bank's top position as Chattanooga's Market President. Sanford managed the institution's assets and helped grow First Tennessee into the region's largest bank with 25 branch locations and more than $2 Billion in assets.
Sanford was named Chattanooga Area Manager of the Year (CAMOY) by the member organization of CAMOY in 2014.
His current non-profit leadership roles include:

Director and Treasurer, ArtsBuild
Director and former board chair, Caldsted Home and Foundation
Board, Executive Committee, Chattanooga Area Chamber of Commerce
Member, Director and Treasurer, Chattanooga Rotary Club
Director, Chattanooga Symphony and Opera
Vice Chair, Planning Commission, City of Lookout Mountain, GA
Trustee, Helen Ross McNabb Foundation
Trustee and Chair of Management Committee, Treasurer, Hunter Museum of American Art
Trustee and Board Chair, Lookout Mountain Conservancy
Board chair and Director, Tivoli Foundation
Trustee, Tennessee Aquarium
Director, Executive Committee, United Way
In addition to his efforts to support so many non-profit organizations, Sanford is described by many as a passionate supporter of conservation to ensure the community's environmental well-being.
"I'm honored to follow in the footsteps of leaders like Charlie Arant, Jim Hill, and Bill Flynn as the Tennessee Aquarium prepares for its' 25th anniversary next year. As a member of the board of trustees, the return on investment made by this community in the Aquarium is nothing short of remarkable. This fall, the facility will open the biological field station of the Aquarium's conservation institute on the campus of Baylor. From a board member's perspective, it further expands the scope of work done by the Aquarium in the region. From my new vantage point, it's one of many exciting strategies that will well position the Aquarium for a future that I'm pleased to share as a member of the team."
Arant believes the organization has been entrusted to someone who will carry on the traditions of excellence in animal care, superior exhibits, guest satisfaction and focus on freshwater conservation. "I think the Aquarium's Board of Trustees made an excellent choice," said Charlie Arant. "Keith will bring his experience, expertise and energy to a team of seasoned Aquarium leaders, staff and volunteers that I am very proud of. Together, we've accomplished a lot and I'm confident that some of the Aquarium's best years are yet to come with Keith's leadership."
###
The Tennessee Aquarium is a non-profit organization dedicated to inspiring wonder, appreciation and protection of water and the life that it sustains. Regarded for its expertise in animal care, top-ranked guest satisfaction and award-winning education programs, the Aquarium has been continuously accredited by both the Association for Zoos and Aquariums and the Southern Association of Colleges and Schools. For more information about how the Tennessee Aquarium positively impacts our community, go to: http://www.tnaqua.org/about-us/community-impact .