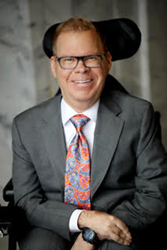 As patients, our desire is to be meaningfully engaged in clinical research and these kinds of technologies are critically important to achieving that goal.
Davis, California (PRWEB) February 24, 2016
Mytrus, Inc., a pioneer in electronic informed consent and leader in e-clinical technologies, has welcomed J. Stephen Mikita, JD as a member of the company's Innovation Advisory Board. The board comprises leaders with expertise in research and development, translational medicine, compliance, and patient advocacy and advises Mytrus on innovative product development strategy.
"Mytrus aspires to consider patient perspectives in all that we do. We will look to Steve, as both a lawyer and as a patient living with a disabling condition, to guide us in our own investment and product development, ensuring that our decisions reflect the technology needs of trial participants. Steve is a tireless champion of individuals with disabilities and a seasoned clinical research industry expert. We're delighted to have the benefit of his wisdom and enthusiasm."
Mikita is one of the oldest survivors of spinal muscular atrophy (SMA), a degenerative neurological disorder. He lives his life from a wheelchair with 'round-the-clock assistance, and he has inspired millions of Americans through his example. He is also a veteran of multiple clinical research studies and an expert in the clinical trials process.
"I am honored and excited to join the Mytrus advisory board and contribute to its line of patient-centric products", Mikita noted. "As patients, our desire is to be meaningfully engaged in clinical research and these kinds of technologies are critically important to achieving that goal. "
Mikita's involvement with clinical development includes serving as a patient representative to the Clinical Trials Transformation Initiative (CTTI) Steering Committee, through which he has worked on numerous projects, including the recent Informed Consent Project. He is also a patient representative for Columbia University Medical Center's Neuro NEXT program as well as for Sentinel, a safety monitoring initiative sponsored by the U.S. Food and Drug Administration. He serves on the planning board of Mini-Sentinel, a pilot surveillance system, as well as on the SMA Foundation board of directors. Mikita was honored with the Muscular Dystrophy Association's National Personal Achievement Award and the Lifetime Achievement Award from the Utah Attorney General's Office. His book, I Sit All Amazed, was published in 2011.
Mikita joins the established Mytrus Advisory Board consisting of well known experts from around the research industry including:
Clay Johnston, MD, Ph.D., Dean of Medicine at the University of Texas, Austin
Garry Neil, MD, Chief Scientific Officer at Medgenics
John Orloff, MD, Executive Vice President and Chief Scientific Officer at Baxalta
David G. Forster, J.D., M.A., C.I.P, Chief Compliance Officer of WiRB Copernicus Group (WCG) and
Steven Cummings, MD, co-founder of Mytrus, Emeritus Professor of Medicine and Epidemiology from the University of California, San Francisco and Director of the San Francisco Coordinating Center.
About Mytrus
Founded in 2009, Mytrus is a privately held e-clinical technology company specializing in patient-centered electronic informed consent and data collection tools. After receiving the first FDA approvals for remote electronic consent and virtual data collection, Mytrus has gone on to develop new technologies for patients including ePRO and EDC tools usable from home and mobile devices, bio-sample consent tracking technology, site training and e-learning applications, and patient home dashboards for tracking clinical study progress and data. Mytrus also holds an exclusive patent for conducting virtual clinical trials in the US. Mytrus investors include BioClinica and inVentiv Health.
Learn more about Mytrus at http://mytrus.com (http://www.mytrus.com) or find the company on Facebook (https://Facebook.com/pages/Mytrus/321804308635) and Twitter @mytrus. (http://www.twitter.com/mytrus)