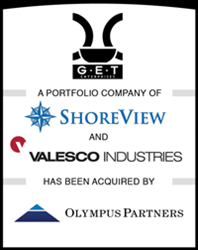 Charlotte, N.C. (PRWEB) February 24, 2016
BlackArch Partners is pleased to announce the sale of G.E.T. Enterprises, L.L.C. ("G.E.T." or the "Company"), a portfolio company of ShoreView Industries and Valesco Industries, to Olympus Partners.
Founded in 1983 and headquartered in Houston, Texas, G.E.T. (http://www.get-melamine.com/) is a leading provider of premium-quality, creative alternative tabletop solutions to the foodservice industry. The Company offers a wide variety of dinnerware, drinkware, displayware, buffet & salad bar and eco-friendly products made from melamine, thermoplastics, metal and other alternative materials. In 2015, G.E.T. completed three complementary add-on acquisitions, expanding its product line and design capabilities.
BlackArch was retained by ShoreView Industries, Valesco Industries and management to serve as their exclusive financial advisor.
Jeff Mudge, Managing Partner at ShoreView Industries, commented: "BlackArch has once again delivered outstanding results for ShoreView and exceeded our already high expectations of their process. G.E.T. is a unique business. The BlackArch team developed a thorough understanding of the special attributes and strengths of the business and did a great job in presenting the business to potential buyers. Ultimately, their thoughtful and targeted approach identified an investor that fully appreciates the opportunity and will be a supportive partner to the business and executive team."
Heidi Modaro, CEO of G.E.T., added: "The BlackArch team provided excellent leadership and resources to our team during this transaction process and, with their vast experience, network and credibility, helped us to deliver the best possible outcome and new partnership."
About ShoreView Industries
ShoreView Industries, based in Minneapolis, manages $900 million in private equity funds. ShoreView invests in established, middle-market companies with operations in North America, across a wide range of industries. ShoreView structures a variety of acquisition, recapitalization and build-up transactions, typically in businesses with revenues ranging between $20 million and $300 million.
About Valesco Industries
Founded in 1994, Dallas-based Valesco Industries invests subordinated debt and equity in lower middle-market businesses throughout the United States. Valesco is a flexible partner, investing in both majority and minority positions for internal growth, acquisitions, leveraged buyouts, management buyouts and recapitalizations with particular focus on manufacturing, value-added distribution and business services.
About BlackArch Partners
BlackArch Partners is a leading middle‐market investment bank offering a full spectrum of advisory services to financial sponsors, private companies and diversified corporations. BlackArch addresses the needs of owner‐operators, founders and shareholders of private companies with specialized services that include M&A advisory, strategic advisory and private capital solutions. Headquartered in Charlotte, NC, with offices in Houston, TX, BlackArch features a total of 12 industry‐focused practices that cover all sectors of interest to middle‐market investors; BlackArch professionals have closed more than 300 transactions in 16 countries on four continents. Please visit our website, blackarchpartners.com, for more details.
Securities offered through BlackArch Securities LLC. Member FINRA and SIPC. Testimonials may not be representative of the experience of all clients. Testimonials are not a guarantee of future performance or success.