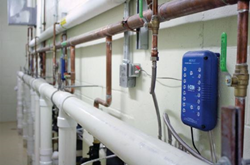 the 'gold standard' in prison water efficiency
OVIEDO, FL (PRWEB) February 25, 2016
I-CON Systems, Inc., the leader in innovative electronic plumbing controls, was acknowledged as "the 'gold standard' in prison water efficiency," in this month's issue of Water Efficiency: The Journal for Water Resource Management.
The feature, titled "Water Sustainability in Prisons", outlines the importance of a call to action on water conservation, and focuses on I-CON's water-saving technology.
Solutions such as NEXUS® controls and the ENVISAGE® water management console are mentioned in the article as examples of how facility staff can control water waste and abuse in a correctional setting.
NEXUS® controllers can stand alone or be networked via a wired or wireless connection to ENVISAGE®. I-CON's controllers allow a facility to set limits on flushing and determine the amount of gallons per flush used for maximum water efficiency.
The ENVISAGE® water management console syncs with NEXUS® to create a visual and easy-to-use touchscreen system that allows users to set lockouts, adjust water runtimes and schedule fixture usage in cells and pods simultaneously.
"It takes the control of water out of the hands of prisoners and puts it squarely with correctional staff members," the article boasts.
Also featured in "Water Sustainability in Prisons" is Tommy Norris, founder of GreenPrisons.
"This kind of technology is not everywhere in corrections but it is certainly growing," says Norris on I-CON systems. "Institutions where I know it has been installed swear by it. They appreciate the savings, but beyond that, it's one more level of control they've got to make the institution safer for the staff and for the inmates."
To read the full article, visit http://bit.ly/1oPSWqw
To learn more about I-CON®, visit http://www.i-con.com
About the Company
I-CON Systems, Inc. ® is the leading global designer and manufacturer of electronic plumbing controls and high security stainless steel fixtures, all proudly made in the U.S.A. Products are designed and engineered to maximize water conservation, reduce maintenance costs and stop plumbing system abuse. I-CON is committed to delivering the latest in technology-driven water efficiency products to institutional and commercial facilities throughout the U.S. and abroad.