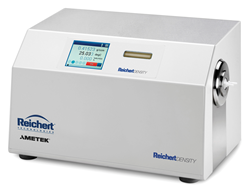 Buffalo, New York (PRWEB) February 24, 2016
Reichert Technologies, which has created advanced optical and analytical instruments for more than 150 years, continues today to pursue the highest level of accuracy and quality with the addition of two new Density Meters to its line of analytical instruments: the Density5 and the Density4. These new laboratory instruments are robust, reliable, and easy to use. With the push-of-a-button, these meters provide continuous, real-time density measurements of liquids. Tough enough for the most demanding applications, these meters are suited for quality control, process control, and research in wide variety of industries, from beverage and breweries, to cosmetics and essential oils, to petroleum to pharmaceuticals.
Backed by Reichert's well-established reputation for leadership and innovation in the analytical instruments industry, the Density Meters offer exceptionally precise, high-quality measurements for every application. Density5 measures with results accurate to 5 decimal places and Density4 to 4 places. Built-in, precise Peltier temperature control, integrated reference oscillator, and automatic air bubble detection are just some of the important features of the new meters. Both Density Meters allow maximum uptime and low cost maintenance with do-it-yourself replacement of the measurement module.
Part of a modular system, the Density5 and Density4 can easily connect to Reichert's other new analytical instruments through the optional Universal Display, a 7" color touchscreen.
Density Meter Operating System Is Designed with the User in Mind
An intuitive touchscreen navigation on the Universal Display saves time by allowing the user to easily program settings and change methods. Through the Universal Display, the Reichert Density5 and the Density4 operating systems (OS) are also able to connect to Reichert's other new instruments (AR Series Refractometers, AR9 and AR5, and Polarimeters, Polar2 and Polar3) creating powerful analytical systems that simultaneously measure density, refractive index, and optical rotation. The OS allows all of the instruments to become part of the workflow, communicating with LIMS systems and other laboratory instruments via USB or RS232 and when adding the optional GxP software package, the system provides full compliance with 21 CFR Part 11, meeting all security electronic records requirements for the pharmaceutical industry.
###
Reichert Technologies and Reichert Analytical Instruments Division
Reichert Technologies, headquartered in Buffalo, New York, is a global leader in the design, development, manufacturing, and sale of analytical and life-science instruments. It also is a leader in ophthalmic and medical devices, and other clinical instrumentation for the healthcare market.
Through its Analytical Instruments Division, Reichert Technologies offers laboratory and portable/field refractometers for the automotive, food and beverage, chemical, and industrial markets. Reichert Analytical has created nearly every technologic breakthrough in refractometry, including the Goldberg, the first and only liquid-filled refractometer that adjusts automatically for temperature compensation.
With more than 150 years of pioneering leadership, Reichert Technologies continues to produce innovative analytical instruments, including its latest density meters and polarimeters that set the highest standards for accuracy and quality.
Reichert Technologies along with its Analytical Instruments Division is a business unit of AMETEK Ultra Precision Technologies a division of AMETEK, Inc., a global leader in electronic instruments and electromechanical devices.