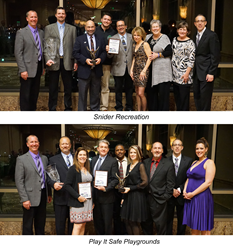 We are honored to work with both Snider Recreation and Play It Safe Playgrounds and celebrate their accomplishments
(PRWEB) February 24, 2016
Burke Playgrounds is pleased to announce the winners of the 2015 Representative Awards. The Representative Awards recognize excellence in sales, customer support and service as well as an overall exemplification of Burke's mission to create play that moves everyone. This year's winners are Snider Recreation as the Representative of the Year and Play It Safe Playgrounds as the Burke Choice Award.
Michael Phelan, president and CEO of BCI Burke Company, presented the awards to both Snider Recreation and Play It Safe Playgrounds at the National Sales Conference in Galveston, TX.
"After working together with us for more than 15 years, the team at Snider Recreation continues to be an incredible partner and share our mission and values," Phelan said. "We are honored to present them with the Representative of the Year award and look forward to our future together in 2016 and beyond." Snider Recreation represents Burke in the states of Ohio, Michigan, Indiana and western Pennsylvania.
The Burke Choice Award is given to the Representative Partner that communicates effectively, challenges us to improve and is a strong partner.
"The Burke team chose Play It Safe Playgrounds for this honor and I couldn't agree with them more," Phelan said. "The team at Play It Safe Playgrounds employs best practices, represents the Burke line with integrity and truly enjoys bringing play to communities. We are honored to work with both Snider Recreation and Play It Safe Playgrounds and celebrate their accomplishments," he added. Play It Safe Playgrounds represents Burke in Arizona and southern Nevada.
At Burke, we strive to create playspaces that honor the environment, that perform and that move all of us to find the best version of ourselves through play. We are constantly studying play and evolving our products to bring a higher level of play to the communities we serve. We provide a variety of playground and park equipment, including climbers, slides, swings, site amenities, park furniture and sports equipment to Parks & Recreation, Municipalities, Schools, Daycare, Churches, Apartment Complexes, Childcare Centers and Children's Museums. Join the movement at bciburke.com and see how play can move you!
###