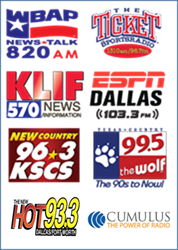 The mission of the Putting Texans Back To Work job fair is to land new jobs for top local talent and to provide local companies with a powerful tool to efficiently fill open positions. - Dan Bennett Cumulus Media Dallas Regional Vice President
Dallas, Ft Worth, Plano (PRWEB) February 24, 2016
Cumulus Media in Dallas Fort Worth is one week away from their ninth Putting Texans Back To Work Job Fair. This event will be happening March 9th at the Plano Centre in Plano, Texas. Putting Texans Back To Work is a proven commodity, well known for bringing job seekers together with companies that are hiring now. This edition of Putting Texans Back To Work is expected to help between 3,000 and 4000 job seekers to quickly secure new employment. Based on prior job fair successes, Cumulus Media Dallas forecasts large counts of applicants for nearly every employment category.
The site of this massive event on March 9th is the Plano Centre, in Plano, Texas. It is an ideal location for access from Dallas, Collin and the Denton County areas of North Texas. And since all seven of our stations reach the entire DFW area, we've seen candidates come from all over the Dallas Ft. Worth area to attend these incredibly successful events. This easy to find location is on Spring Creek Parkway, just east of US Highway 75. As a gesture of good will, Cumulus-DFW has also arranged for free parking for all vendors and attendees.
The DFW job market is booming and the quality of the Cumulus Media audience of over 3 million adult listeners has continually supported this event. DFW Companies are hiring and we are expecting over 75 companies at the event. With 70 new corporate headquarters moving into the DFW area in the last three years many companies are finding it more difficult to find quality candidates. The entire Cumulus Media DFW team is committed to serving the North Texas Community of hiring managers, recruiting teams, and area companies in facilitating the success of Putting Texans Back To Work.
The Putting Texans Back to Work Spring Job Fair takes place March 9th at the Plano Centre just North of Dallas. Take a look at a quick video of last years event at this link. If your company or firm is looking for one very special candidate, or if you need to fill a number of positions, this even will be perfect for you.
No registration is required for job seekers. Limited space is still available for vendors. If your company would like to get involved you can contact Steve Holm directly or you can register at this link. Deadline for entry is Monday March 7th.