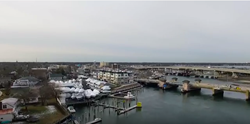 Allenhurst, New Jersey (PRWEB) February 23, 2016
Bielat Santore & Company is taking flight on its latest marketing scheme: drone photography showcasing the company's inventory of restaurants and other select hospitality properties for sale. The same company that introduced computerization to the commercial real estate industry in 1982 is now embarking on presenting impressive aerial views and interior tours through remote-controlled drones.
It is not easy for those interested in the purchase of a restaurant to fit in time to travel the state to look at potential acquisitions. This new service will afford potential buyer with the opportunity to review the company's listings from their computer screen or handheld device when they have the time to do so. Drone photography provides great perspective and a sense of how each property fits into the neighborhood they are situated in.
To view the videos, contact the office of Bielat Santore & Company at 732.531.4200 or email info(at)123bsc(dot)com. Prospects may also visit the company's LinkedIn page, to be added to their exclusive group, BeatsandEats.
About Bielat Santore & Company
Bielat Santore & Company is an established commercial real estate firm. The company's expertise lies chiefly within the restaurant and hospitality industry, specializing in the sale of restaurants and other food and beverage real estate businesses. Since 1978, the principals of Bielat Santore & Company, Barry Bielat and Richard Santore, have sold more restaurants and similar type properties in New Jersey than any other real estate company. Furthermore, the firm has secured in excess of $500,000,000 in financing to facilitate these transactions. Visit the company's website, http://www.123bsc.com for the latest in new listings, property searches, available land, market data, financing trends, RSS feeds, press releases and more.