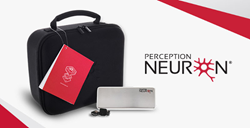 We are grateful for the commitment and support of all our backers and we look forward to forging new relationships in the VR industry and developing new products both for professionals and consumers.
(PRWEB) February 23, 2016
Perception Neuron, the versatile and affordable motion capture system that has become a major player in the VR arena since launching its Kickstarter campaign in 2014, is now moving on from the crowdsourcing platform to concentrate on the company's development initiatives while leaving their dedicated backers with a set of new software upgrades as they get ready to make their second appearance at this year's Game Developers Conference in San Francisco.
The noteworthy campaign, which closed funding in September of 2014, was one of the most successful campaigns from China in Kickstarter history, and helped to launch the Beijing-based motion capture system by Noitom into the gaming, virtual reality and visual effects spheres while providing a user-friendly, cost-effective tool for motion capture that everyone from animators, studios and game developers could work with.
"It is on a very high note that we move on from Kickstarter and we are truly indebted to our loyal backers who stuck with us from beginning to end and who helped us make the dream of an accessible motion capture system a reality," says Tristan Dai, CTO of Noitom. "Moving on from our Kickstarter campaign is not an end, but a beginning towards the next level where we want to take this versatile technology. We are grateful for the commitment and support of all our backers and we look forward to forging new relationships in the VR industry and developing new products both for professionals and consumers."
Perception Neuron's Kickstarter drive welcomed over 1,300 backers and many have gone on to commend the company for a smooth and efficient campaign. Backers from around the world made it possible for the campaign's total to swell to over $571,000 after an original goal of $250,000.
As a show of appreciation to their backers and all future customers, the professional version of Axis Neuron Pro will be given for free in addition to a handful of updates including a new Unreal Engine plugin, an updated UNITY SDK, an updated Neuron Data reader SDK and the latest Motion Builder plugin that will give them even more capabilities when using the motion capture system with a variety of applications such as VFX, gaming, entertainment and VR. The company will continue to provide both backers and online customers with further updates in the future. Backers are welcome to continue communicating directly with the Perception Neuron team via their support email, contact(at)neuronmocap(dot)com or by visiting their Twitter and Facebook pages.
Though Perception Neuron will continue to make the occasional update on Kickstarter, they will focus on announcing news and updates via their website, blog and social media channels.
"This is a great time for motion capture and for the company," says Haoyang Liu, CEO of Noitom. "We are honored and humbled by our great success on Kickstarter and now we can expand onto new horizons. With all of the new virtual reality products currently launching or being developed, we expect our motion capture technology to play an integral role in the coming VR movement."
Perception Neuron is currently preparing to make their second appearance at GDC taking place this year at Moscone Center in San Francisco from March 14-18. They will be offering their latest project demos to booth visitors throughout the show and the media is invited to try out the system and to interview members of the team. To schedule a VIP demo and for further inquiries, members of the media can contact pr@noitom.com. Perception Neuron will also be participating in several technology-related events during the conference, please visit their website for dates and announcements. Perception Neuron will be at Booth #602. For more information about GDC, please visit gdconf.com.
To learn more about Perception Neuron and to stay up-to-date with news and events, please visit neuronmocap.com. To learn more about Noitom, visit noitom.com.
Founded in 2011, Noitom Ltd. works with a team of dedicated engineers who develop world-class motion capture technology for consumer and industrial markets through the integration of MEMS sensors, pattern recognition, human kinetics and wireless transmission. Noitom is an international leader in innovative technology for use in animation, film, medical applications, robotics and gaming. Noitom is headquartered in Beijing with affiliate offices in Shenzhen. For further information about Noitom and its services, please visit, http://www.noitom.com. For general inquiries, please email, info(at)noitom.com.