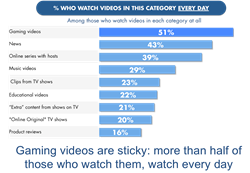 In spite of the competitive challenge, maybe the most interesting thing about this study is the opportunity that exists for traditional media companies.
Boston, Ma (PRWEB) February 25, 2016
As an entertainment category, online video is thriving, offering viewers massive amounts of content, highly targeted genres and sub-genres, and bite-sized formats making it easy to watch on the go—all of which has made the category immensely popular with the types of young consumers advertisers covet.
Hub's recently released "Non-Traditional TV" study confirms the impressive reach, and notable impact, of online-only video content.

Almost everyone's watching: 77% of TV viewers with broadband access have watched online-only video in the past six months—88% among 16-24 year olds
It's part of consumers' entertainment routine: 76% viewers watch every week, and 53% of 16-24 year olds watch every day. The average online video viewer spends more than 8 hours per week watching this type of content.
It's spontaneous: Short-form options and mobile availability mean consumers can watch anytime, anywhere. And they do: 57% of viewing is unplanned, with consumers stopping whatever else they're doing to watch a video pushed to them
The time spent watching online video needs to come from somewhere—and much of it is time consumers would otherwise spend watching traditional TV:
Nearly 4 in 10 (37%) say they watch less TV now than before they started watching online video
Among Millennials 18-34, the impact is even greater: close to half (46%) say they're watching less TV because of online video viewing
All is not dire for the TV industry however. The study debunks the notion that consumers see online video as the grassroots adversary of "big" media. In fact, it's just the opposite:
48% would have a positive reaction if one of their favorite online video personalities signed with an established entertainment company, vs. just 11% with a negative reaction
34% say they're more interested in watching online videos from "familiar media companies like TV networks," vs. 14% who prefer videos from independent people with no industry connection
"Online video serves up entertainment and information in ways that directly address viewers' needs," said Peter Fondulas, principal at Hub and one of the authors of the study. "And in three areas in particular, consumers feel online video does a better job than traditional TV: shorter formats, more inventive treatments, and genres that are micro-targeted to match interests."
"In spite of the competitive challenge, maybe the most interesting thing about this study is the opportunity that exists for traditional media companies," added Jon Giegengack of Hub. "It's often assumed that the independence of online video creators from 'big media' is a big reason for their popularity. But these findings suggest that things like greater creativity and highly specialized genres matter more. And in fact, viewers are very open to their 'stars' partnering with traditional entertainment companies if those qualities stay intact."
About this Research
The 2016 "Non-Traditional TV" survey included 1,246 US TV viewers with broadband, ages 16 to 74. An excerpt of the report is available as a free download from Hub Entertainment Research. The data was collected in February 2016.
About Hub Entertainment Research
Hub Entertainment Research is a market-research firm with deep expertise in television, movie, videogame, music, publishing, and sports—anywhere that entertainment and new technology overlap. Our work includes The Hub Reports: an annual series of 6 syndicated studies that track key behaviors of TV consumers, and enable decision-makers to anticipate the biggest risks and opportunities in a rapidly changing marketplace. For more information, please visit us at http://www.hubresearchllc.com.
*The study focused on content such as recurring video series, gaming and music videos, bonus TV content, educational videos, and full-length shows, available only from online sources like YouTube, Multi-Channel Networks, Netflix, etc. Respondents were told to not consider one-off, user-generated videos in their responses.