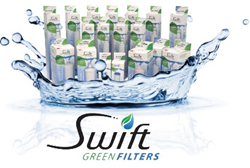 up to 96 million Americans could be found to be drinking water with unsafe levels of lead
Manning, SC (PRWEB) February 29, 2016
Ten years ago, the founders of Swift Green Filters saw the handwriting on the wall. They recognized that lead and other harmful substances were present at varying levels in the public water systems in the US. Their goal was twofold: to be the first after-market replacement water filter company to produce a filter that would remove up to 95% of lead and other harmful substances, and make it environmentally friendly. They succeeded and are not only a leading producer of water filters for consumer refrigerators, under sink water systems, and commercial beverage dispensing systems, but are also the only aftermarket supplier of filters that remove lead and other chemicals.
An article published last January by The Guardian cited that "up to 96 million Americans could be found to be drinking water with unsafe levels of lead" and that "people's drinking water is at risk in every major city east of the Mississippi". (Milman, Oliver. "US Authorities Distorting Tests to Downplay Lead Content of Water." The Guardian 22 Jan 2016.)
Lead leaches into water from lead pipes which are common in old buildings; removal of old pipes is costly. Add in antiquated public water treatment systems and improper or inadequate water testing procedures and tragedies like the water crisis in Flint, Michigan happen.
"Before the public water pollution tragedy in Flint, our customer base was already large and growing," said Ramesh Suri, Managing Director of Swift Green Filters. "In the weeks since the tragedy, the demand for our filters has skyrocketed. Our customer base began loving our filters because of our green initiatives. The unfortunate events in Flint, Michigan have opened the eyes of the public to how easily their drinking water can be compromised. It has become a serious matter for our customers to protect their health using our water filters, which are the only after-market filters available that have the ability to filter out up to 95% of lead and up to eight other harmful substances."
Swift Green uses coconut shells as a natural substance to make an alternative activated carbon. "Coconuts are grown in 80 different countries with a total production of about 61 million tons per year. After use, the shells are often burned or discarded into the ocean. We are recycling these shells instead for use in our filters," said Suri.
The production warehouse for Swift Green Filters in Manning, South Carolina, is working at full speed to keep up with the demand for their water filters. The dedicated employees of Swift Green know the value and importance of their product -- not only to the US, but to the world.
The World Health Organization (WHO) is clear on the effects of lead exposure: it is harmful to the developing brains of fetuses and young children. It attacks the brain and central nervous system and can cause irreversible consequences such as learning disabilities, behavioral difficulties, antisocial behavior, reduced educational attainment, coma, convulsions and even death. Childhood lead exposure is estimated to contribute to about 600,000 new cases of children developing intellectual disabilities every year and 143,000 deaths per year. (The World Health Organization Media Centre. "Lead Poisoning and Health." Fact Sheet N*379 Aug 2015.)
Swift Green Filters is a division of Suri Industries, with headquarters in Vancouver, BC, Canada. Swift Green is a leading company in water filtration products and the first company to establish a green filter product line. With an executive team that has over 25 years of experience in engineering, production, sales and marketing, Swift Green is committed to making products that offer our world a healthy, cost effective and eco-friendly alternative to their water filtration needs. Learn more by going to http://www.swiftgreenfilters.com