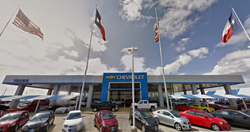 The surveillance aspect has already saved us $1,000 on a false collision shop claim," said Keith Young, Owner of Young Chevrolet.
Hanover, MD (PRWEB) February 24, 2016
Eyewitness Surveillance (Eyewitness), the industry leader in remote interactive video surveillance specializing in serving mid and large-sized automotive dealerships, announces their new partnership with Young Chevrolet of Dallas, Texas, a recognized leader in the automotive dealership industry.
Prior to working with Eyewitness, Young Chevrolet had utilized security guards for years to monitor and secure the 16 acres of land at the dealership and all of their assets. As car dealerships are frequently targeted for theft and damage, Young Chevrolet was in need of a more comprehensive solution in order to better protect its property and assets while finding a better return on the invested dollars. Young Chevrolet selected Eyewitness due to their cost-effective solution that incorporates video surveillance monitoring and operational efficiencies including false claims and car lot damage. Additionally, Eyewitness has demonstrated strong quantifiable ROI, customized systems and responses to each dealer's needs and success in delivering promised security.
Since implementation of Eyewitness's technology and remote video surveillance (which includes over 50 exterior surveillance and around 20 interior cameras to cover the entire acreage of the property) Young Chevrolet has recognized the numerous promised benefits of remote interactive video monitoring solutions. In a short period of time after the system going live as operational, Young has already seen the power of having both proactive surveillance and archived video evidence.
Specifically, during the first week of the technology going live at the site, there was an incident in which a customer complained that the rear bumper of their vehicle was missing when they left the dealership. The Young Chevrolet team was able to use Eyewitness' Service Lane System and the video showed that the bumper was intact. This added feature has quickly proven its worth and allowed the dealership to save money.
"I'm pleased with the quality of the cameras, the company's attentiveness to installation and any ongoing service issues. The surveillance aspect has already saved us $1,000 on a false collision shop claim," said Keith Young, Owner of Young Chevrolet. "The Eyewitness team is easy to work with, and I've felt confident that this transaction has been a sound business decision."
"As we continue to work with local dealers like Young Chevrolet and their management team, our goal is to provide the right solution and solve business issues impacting their bottom line. Auto dealers are key businesses to local economies and we are proud to work with our customers to find more efficient ways for them to operate – making them stronger businesses " said Steve Ward, Midwest Director of Sales for Eyewitness.
About Eyewitness Surveillance
Since its founding in 2004, Eyewitness Surveillance has established itself as a leader in remote interactive monitoring, providing cutting-edge security and operational solutions for mid-size and large car dealerships, metal recycling yards, and a variety of other fixed industrial facilities across the country. Eyewitness has a state-of-the-art central station and its services help clients prevent theft, inventory damage and false claims with the need for onsite guard services. The key differentiator is that its products and services extend beyond pure security into operations. Using sophisticated analytics Eyewitness's state-of-the-art cameras can capture data used to monitor customer foot traffic and employee behavior, improve customer responsiveness, drive sales, and manage assets and inventory. For more information on Eyewitness and its services, please visit http://www.eyewitnesssurveillance.com. Also follow Eyewitness on Facebook, Twitter, and LinkedIn.
About Young Chevrolet
Family-owned and operated for over 40 years, Young Chevrolet in Dallas, Texas, is a dealership that prides itself on honesty, integrity and value in serving the Dallas, Fort Worth, Mesquite, Rockwall and Garland areas with a full line of Chevrolet vehicles. As a member of these communities, Young Chevrolet knows the value of putting customers first. Whether customers are buying, selling or servicing your Chevrolet, Young Chevrolet's expert, friendly staff is here to make the experience an amazing one. For more information, visit http://www.youngchevrolet.com.