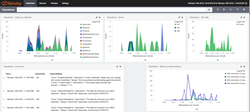 Operational intelligence for IT support is the forgotten aspect of mobile analytics
Boston, MA (PRWEB) February 24, 2016
Kinvey, the leading enterprise mobile Backend as a Service (mBaaS), today introduced a new powerful and flexible mobile Operational Intelligence service for its customers. The new service gives IT teams the actionable insights they need to deliver end-user support and report on end-to-end app performance and compliance. An industry first, the service plugs critical holes in today's mobile app support tools to enable Level 1 and Level 2 IT support to quickly troubleshoot and fix app problems and delight customers.
With the launch of Operational Intelligence, Kinvey is the only mBaaS to provide a service that gives IT teams the insights they need to deliver end-user support, provide end-to-end performance problem diagnosis, and report on security and compliance. Customers can now discover data and events, create sophisticated filters and correlations for individual apps and users, visualize data with a rich set of tools for charts, tables and graphs, and create customizable dashboards to provide specific app insights.
"This tool will enable us to provide best-in-class support to our customers during the full app lifecycle," said Ty Rollin, Chief Innovation and Technology Officer, Mobiquity, Inc. "Today, we lack a single tool for actionable insights. With Kinvey's Operational Intelligence, I see a faster path to troubleshooting performance bottlenecks and finding the root cause of application failures. Prompt resolution of customer support issues is critical to our overall customer experience."
Most mobile app analytics products service the needs of marketers and product managers. The Kinvey Operational Intelligence service is the first app for IT operations and support teams to:

Deliver end-user support via their Level 1 and Level 2 support staff, using standard and customizable dashboards that guide their diagnosis for quick problem resolution
Monitor and report on compliance events by creating sophisticated filters and correlations for individual apps and users
Optimize their apps to deliver sub-second data access user experiences by identifying performance bottlenecks and high-latency queries against legacy enterprise IT systems
IT tech support can query the large collection of data using a simple, easy-to-use interface that can inspect errors in specific application requests. The queried data can be visualized via out-of-the box charts, graphs and tables, which can be aggregated into highly customizable dashboards for specific purposes. Using these features, IT can provide a Level 1 Support Engineer with a dashboard to guide him/her through simple diagnostic steps, while a Level 2 Support Engineer's dashboard includes additional information for troubleshooting and root cause analysis. A "usage" dashboard also provides the business or product manager with valuable information on how the application is being used.
"Operational Intelligence has been the missing link in the app support space; the behavioral analytics tools in the market today are focused on the evolution and improvement of the apps themselves," noted Jikku Venkat, vice president of product management, Kinvey. "Few options exist to help IT operations support apps post-launch, and we see most enterprise apps fail due to poor customer experience. Our Operational Intelligence service is designed to fill this void in the market and ensure our customers can be successful launching their apps and building an excellent customer experience."
Kinvey's Operational Intelligence capability is built on a state-of-the-art technology foundation - the ELK stack. ELK refers to Elasticsearch, Logstash and Kibana, and is popular with today's DevOps engineers.
About Kinvey
Kinvey is the leading enterprise mobile Backend as a Service (mBaaS) platform that helps enterprises, agencies and developers launch successful and engaging apps. Kinvey provides comprehensive support for native, hybrid and mobile Web applications and out of the box enterprise capabilities including identity management, rapid integration with enterprise data sources and a data store and file store for new mobile data, ability to run customized business logic and a rich set of mobile engagement services. Kinvey runs in a multi-tenant cloud or in a dedicated public or private cloud. On average, Kinvey customers launch applications twice as fast and at half the cost of traditional methods. For more information, visit http://www.kinvey.com.