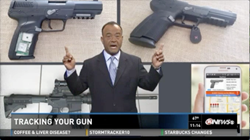 It's just like having a Lo-Jack for everything, said Oscar Westerfield;Retired FBI Agent
Clearwater, FL (PRWEB) February 25, 2016
TracFind, creator of the world's first smart, connected, motion enabled location tracking device has generated $33K in pre-orders for their safety tracking tag on the Indiegogo crowdfunding platform.
TracFind is a smart tracking tag which features worldwide location tracking, 3-year battery life, recharging capability, and a built-in acceleration/motion sensor to detect the moment a gun, or any item attached, is moved and/or stolen.
TracFind alerts its owner the moment it's moved and can send the location information to law enforcement from a simple swipe on the mobile phone app.
"It's just like having a Lo-Jack for everything," said Oscar Westerfield, Retired FBI Agent in an interview with former police officer and anchor Reginald Roundtree of CBS WTSP-TV. Westerfield noted that since more than 60% of home burglaries involve a handgun, "I think it would be worthwhile."
See TracFind in Action: http://www.TracFind.co
TracFind is the only patent-pending device which allows customers, at their sole discretion, to immediately share the devices photo, description, and location with any law enforcement agency or a third-party such as a friend or neighbor.
"We're received overwhelmingly positive feedback on our Track Anything solution which allows gun owners to know exactly where their firearms are located, anytime, 24 hours a day," said TracFind founder and CEO, Clark East.
Watch the CBS Channel 10 Coverage: http://www.TracFind.co/cbs-news-special/
TracFind was created by a group of entrepreneurs, designers and engineers who personally experienced items turning up missing, moved without their consent, or stolen. This collaboration resulted in a first-of-its-kind "Alarm System For Anything" solution, drastically reducing loss or theft.
Visit the TracFind Indiegogo Campaign: http://www.indiegogo.com/projects/tracfind-track-anything-anytime-anywhere
About TracFind:
TracFind is an up and coming leader in the wearables products market. With a founding team that includes entrepreneurs with expertise in software, design and manufacturing. The company is headquartered in Clearwater, FL.
Media Contact:
Julie Shepherd
Accentuate PR
847-275-3643
julie(at)accentuatepr(dot)com