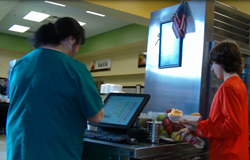 The review team was impressed with the POS system and the speed and ease of use that it offered.
Atlanta, GA (PRWEB) February 26, 2016
The school nutrition program in Calhoun City Schools, GA was the first to undergo a state administrative review while using the newest point of sale system available in the school nutrition market, Solana, from Horizon Software.
After three days of system and process reviews that covered everything ranging from free and reduced-price meal applications, claim reporting, and the point of sale system, the program was pleased to learn of their outstanding performance. "We passed with flying colors and Solana was well received with the review team," says Kim Kiker, School Nutrition Director at Calhoun City Schools. "The auditors specifically said Solana reports were easy to read and understand."
With heightened scrutiny of the National School Lunch and Breakfast programs and focus on accountability of the federal program dollars, the accuracy of data captured and reported is crucial to a district's image and operations. The audit at Calhoun City Schools, a five-site district with an enrollment of 4,100 students, concluded in late January and included a comprehensive review of cashier and manager procedures for selling reimbursable meals at the point of sale. "The review team was impressed with the POS system and the speed and ease of use that it offered." Additionally, over 500 applications processed by Solana to determine student eligibility for free and reduced-price meals were reviewed, with not a single error found.
In addition to being pleased with Calhoun City Schools' processes and the Solana software, Kim states "auditors were very impressed with the support that Horizon Software offered to us during the review period." This played a key role in the audit, as Calhoun City Schools had recently changed technology providers. "We switched to Solana toward the end of the school year and the transition was very smooth," says Kim. "The product is extremely simple to use, and the service we have received from Horizon Software has been excellent."
"Solana's success has been beyond even our expectations out of the gate," says Horizon Software President Randy Eckels. "The SaaS platform combined with Solana's feature set improve delivery, ease of use, and affordability for school nutrition programs of all sizes. We appreciate Calhoun City Schools being such a responsive beta partner, and couldn't be more pleased with the results of their administrative review."
About Solana
Solana offers school nutrition programs an easy-to-use cloud-based system to capture and report the data required for meal program accountability, including a lightning-fast POS, student eligibility management, and real-time reporting center. It integrates seamlessly with the MyPaymentsPlus online payment system for student meal account payments, as well as most Student Information Systems. For additional information or a demonstration, please visit http://www.horizonsoftware.com/solana or contact Horizon Software at (800) 741-7100.
About Horizon Software
Operating as a unit of Roper Technologies (ROP: NYSE), Horizon is a Microsoft Gold Independent Software Vendor headquartered in Duluth, GA. Horizon's software for school nutrition programs and online payments is installed in over 11,000 schools across the United States and more than two million users take advantage of Horizon's technology. For more information, visit http://www.horizonsoftware.com or call toll free (800) 741-7100.