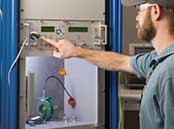 "Our customers know us for reliable surge protection and dedicated customer support," said Brian DuPell, President, Smiths Microwave (Telecoms).
(PRWEB) February 25, 2016
Specially equipped to provide a live venue that facilitates custom design discussions, demonstrates technology expertise, and provides actual product displays as well as live test demonstrations for a variety of protection solutions, the Customer Experience Center seeks to ensure visitors gain the best and most appropriate technology match for each application.
Located in Hayden, Idaho, the Customer Experience Center is available for appointments now.
"Our customers know us for reliable surge protection and dedicated customer support," said Brian DuPell, President, Smiths Microwave (Telecoms). "The Customer Experience Center is an ideal setting for custom design discussions and product demonstrations, as well as an excellent way for us to partner with customers with the aim of providing the perfect solution for their specific applications."
Part of the Smiths Microwave family of brands, PolyPhaser and Transtector Systems provide industry-leading lightning and surge protection for a comprehensive range of markets and network applications. The engineering and support teams partner with customers around the globe to develop innovative solutions for markets ranging from telecommunications and data centers to energy, medical, rail and security.
Visitors to the Customer Experience Center can evaluate products, discuss custom solutions, observe testing procedures and more. On-site test labs include RF testing, surge test capabilities, data network testing, and environmental chamber testing. Critical services include assessing compliance requirements, technology analysis, system qualifications, budget parameters, and technical support.
To schedule a visit to the Customer Experience Center or for more information, contact us at http://www.transtector.com, http://www.polyphaser.com or +1 208 772 8515.
About Smiths Microwave
Smiths Microwave is a leading provider of components, sub-assemblies, antennas and system solutions that test, filter, protect, and process high-frequency signals primarily for defense, aerospace, test and measurement, and wireless telecommunications applications.
As a family of brands, TECOM, TRAK, Millitech, EMC Technology, Florida RF Labs, LORCH, TRAK Limited, Kaelus, PolyPhaser, Transtector Systems, and RadioWaves provide exacting antenna system solutions for the military and commercial aerospace, as well as transceivers, frequency sources, timing systems, component applications and a wide range of innovative RF, microwave and surge protection solutions for the wireless telecommunications sector.
Alongside Smiths Connectors and Smiths Power, Smiths Microwave is part of the Smiths Interconnect division of Smiths Group (http://www.smiths.com), a global leader in applying advanced technologies for markets in threat and contraband detection, energy, medical devices, communications, and engineered components. Smiths Group employs more than 23,000 people in over 50 countries.