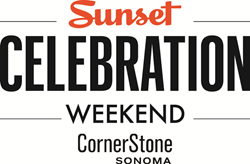 We are at a very exciting moment in Sunset's history, and the theme of this year's Celebration Weekend, 'The New Sunset,' reflects that.
Oakland and Sonoma, CA (PRWEB) February 24, 2016
On May 14th and 15th, 2016, Sunset fans will join editors, celebrity chefs, vintners, craft beer brewers and renowned lifestyle experts in Sonoma, CA, for the 18th annual Sunset Celebration Weekend. The two-day series of culinary, wine, garden and lifestyle events will be held for the first time at Cornerstone, a wine country marketplace with food and wine, shops, gardens and event spaces, that will serve as Sunset's beautiful new wine country location. At Celebration Weekend, Cornerstone will be transformed into an interactive showcase for the region's most exciting lifestyle inspiration and freshest flavors, and Sunset's Test Gardens and Outdoor Kitchen will open to the public for the first time. Additional program details and ticket information will be available in the coming months at http://www.sunset.com/cw.
"We are at a very exciting moment in Sunset's history, and the theme of this year's Celebration Weekend, 'The New Sunset,' reflects that," said Irene Edwards, Sunset Editor-in-Chief. "We're injecting the Sunset experience with new life, so look for fresh faces, flavors and festivities at the event."
In June 2015, Cornerstone and Sunset announced a strategic partnership that includes hosting Sunset's main test garden, an outdoor kitchen and on-site programming, including Celebration Weekend. Through its partnership with Cornerstone, Sunset will have a continuous presence in California wine country, one of the world's premiere travel destinations. Sunset's flagship headquarters is located in Oakland's Jack London Square.
"We are thrilled to partner with Sunset to bring Celebration Weekend to the Sonoma wine country and help reimagine this iconic event to reflect the sophisticated lifestyle and taste of our world-renowned region," said Darius Anderson, Kenwood Cornerstone CEO.
Stay up to date on Celebration Weekend 2016 by liking Sunset on Facebook (http://www.facebook.com/sunsetmagazine), and following Sunset on Twitter, Instagram and Pinterest (@sunsetmag), or by using the hashtag #thenewsunset.
Sunset Celebration Weekend sponsors include Belgard, Delta Faucets, Insinkerator, Mandalay Bay, Sunbrella and Torani.
About Sunset
Sunset (http://www.sunset.com) is the leading lifestyle brand in the West. Through magazines and books, events and experiences, and digital and social media, Sunset covers the West's best flavors, destinations, design trends, and innovations. Sunset engages and inspires an audience of over five million educated, active and affluent consumers every month through its five regional print editions—Pacific Northwest, Northern California, Southern California, Southwest and Mountain—as well as via all tablet devices and its website. In addition to its print and digital publications, Sunset showcases the region's unique lifestyle and noteworthy destinations through its flagship events, established home programs, licensing partnerships, books and International Wine Competition.