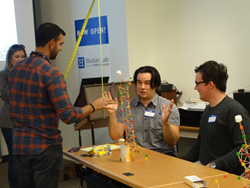 Our students are gaining real world experiences as a result of Sierra College being one of the first community colleges in the United States to establish a public-private partnership with a community maker space.
Rocklin, CA (PRWEB) February 25, 2016
Sierra College is sponsoring Hacker Lab's Startup Hustle and encourages students and entrepreneurs to apply by March 17 for the eight-week bootcamp that will immerse participants in developing skills to turn their ideas into successful businesses.
The Startup Hustle program includes guidance from industry mentors, weekly speakers who have founded companies, proven business building tools and the support of an entrepreneurial community. It is easy to get started, apply at Startup Hustle. Once your application is accepted, participation is free for Hacker Lab members and Sierra College students, and the fee is $149 for other participants.
According to Eric Ullrich, Co-founder, Hacker Lab, Startup Hustle supports participants in discovering their own path to successful entrepreneurship through the support of Hacker Lab's Startup Community. "This is a chance to challenge yourself," said Ullrich. "We'll stretch your thinking and help you incubate your ideas to start or grow your business."
The immersive bootcamp is for those who dream of becoming entrepreneurs as well as those interested in taking an invention or business to the next level, explained Ullrich. "Startup Hustle is for people who want to learn innovation skills, identify potential customers, test viability and prepare to present to investors, all in a very supportive environment."
Students are encouraged to apply according to Carol Pepper-Kittredge, Center for Applied Competitive Technologies (CACT), Sierra College. "Students who want to start a business or work for a company where innovation is valued will benefit from participating," said Pepper-Kittredge. "Our students are gaining real world experiences as a result of Sierra College being one of the first community colleges in the United States to establish a public-private partnership with a community maker space."
Sponsors of Startup Hustle include The Shop VSP Global, Business Composer, Sierra College, City of Rocklin, SMUD, California Community Colleges Workforce and Economic Development Division, City of Sacramento, Sierra College CACT, Golden Sierra and Bosley Till Neue & Talerico LLP.
For more information about participating or becoming a sponsor/mentor, please go to the Startup Hustle website or email: startuphustle(at)hackerlab(dot)org. At the Sierra College CACT website under entrepreneurs, read about past Startup Hustle participants who built apps for auto mechanics, produced inventions for the eye care industry, expanded a custom long board company and started an art community.
About Sierra College CACT
The Sierra College Center for Applied Competitive Technologies (CACT) is focused on Advanced Manufacturing training and development, and is funded through the Workforce and Economic Development program of the California Community College Chancellor's Office. Since 1992, the Sierra College CACT has provided customized training for organizations, manufacturers and technology companies throughout Northern California. Additional information is available at the Sierra College CACT website or contact Carol Pepper-Kittredge at 916-660-7801 or cpepper-kittredge (at)sierracollege(dot)edu.
About Hacker Lab
Established in 2012 in Sacramento, Hacker Lab aims to educate folks and spark innovation with community driven resources. Offering co-working, maker space, courses, meet-ups and events, Hacker Lab believes that technology can change the world and the starting point is education. In 2014, Hacker Lab had over 200 members; 120 completed a survey and 33 provided company data that showed: $3.7 million in revenue was generated and 75 jobs were created, and 20 start-up ventures were launched. Hacker Lab has locations in Sacramento and Rocklin. Learn more at the Hacker Lab website .
About Sierra College
Sierra College serves 3200 square miles of Northern CA with campuses in Roseville, Rocklin, Grass Valley, and Truckee. With approximately 125 degree and certificate programs, Sierra College is ranked first in Northern California (Sacramento north) for transfers to four year Universities, offers career/technical training, and classes for upgrading job skills. Sierra graduates can be found in businesses and industries throughout the region. Find more information at the Sierra College website.