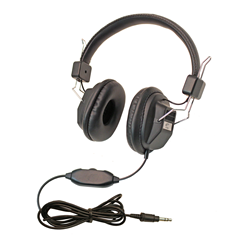 San Fernando, Calif. (PRWEB) February 24, 2016
The passage of the Every Student Succeeds Act (ESSA) makes Title I and II funding available for pre-K and early elementary education, therefore increasing access to pre-K programs and professional development resources. To support the effort by the U.S. Department of Education to jump-start elementary teaching and learning, Califone International LLC introduces its Kids Headphone. The 1534BK headphone is smaller in size and durable to fit the needs of younger listeners.
Designed for comfort, the 1534BK headphone includes a headband with slightly less inward pressure than models for older students, but still enough to block external ambient noise. The headphone has cushioned circumaural earcups and an adjustable headband that fits smaller head sizes. The earcups block ambient noises, helping students stay on task while also reducing the need to increase the volume, therefore protecting their hearing safety.
The Kids Headphone comes with a three-year warranty to provide teachers and students a long-lasting model built for the classroom environment. It also features slotted baffles to protect its internal speakers from accidental damage associated with prying fingers.
"Teachers have been requesting a smaller headphone with the same high quality features as the 3068AV," said Tim Ridgway, vice president of marketing for Califone. "The 1534BK headphone is designed to be resistant to how our youngest learners handle headphones, unlike most consumer headphone models."
The 1534BK headphone has a six-foot cord, so it is lengthy enough to be used with laptops, and is accessible for mobile learning. It is compatible with iOS, Android and Window-based devices.
For more information on the new headphone model, full line of Califone products, and to view and download the complete Califone catalog, visit http://www.califone.com.
About Califone
Califone was founded in 1947 and continues to be a leader in the design, development and manufacturing of audiovisual and supplemental curriculum products for use in education. The company's products enable educators to incorporate rich audiovisual resources into lessons that help students build speaking and listening skills, critical to the English Language Arts portion of the Common Core State Standards. Califone offers a complete line of audio solutions, wireless systems and multimedia products for small, medium and large presentation needs, and serves millions of educators and students in the PreK through higher education school environments.