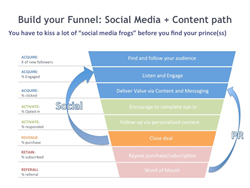 These three social media marketing & public relations solution packages deliver the power of integrated digital communications, customized to the brand, and right-sized to the budget.
Seattle, WA, Portland, OR (PRWEB) February 25, 2016
Agencies, enterprises and non-profits have access to a new solution offering partnered social media and public relations services with the launch of PRA Public Relations, and TreDigital Marketing Services, one-stop, integrated social media marketing and public relations solutions.
TreDigital, a global digital marketing company, and PRA Public Relations, an earned media communications agency serving Fortune 500 and emerging enterprises, are launching the solution to deliver the powerful benefits of integrated digital and social media marketing, while incorporating public relations outreach in a cost and time-effective, measurable program.
The packaged programs are custom-designed for use by enterprises, non-profits and as a white-label agency solution, while meeting a range of result and budget needs.
"Technology, non-traditional strategies, and deep subject matter expertise play a critical role in an integrated digital marketing funnel," said Maria Dykstra, TreDigital co-founder. "Social media helps with establishing initial credibility, and public relations content builds long-term trust."
"The PR and social media equation delivers a three-in-one ROI," added Pam Abrahamsson, PRA Public Relations founder. "It drives credibility for a brand, supports the sales funnel and generates critical digital market interaction."
Solution Benefits:
The solution offers three different budget and service level options. All of the packages will help increase brands' internet marketing footprint and support revenue growth by delivering conversation and engagement with customers, partners, and journalists.
Enterprise and Non-Profit Benefits:

Deliver expert oversight of a complex marketing solution.
Reduction in cost of marketing management, social media content creation and measurement.
Agency Benefits:
Access to a trusted white-label partner which can work easily alongside existing programs.
The ability to enhance existing offerings, driving improved performance and competitiveness.
Driving Revenue, Awareness & Leadership
Recent research clearly identifies the significant return on investment for digital communications strategies: companies engaged in social media saw a 26% increase in revenues over those that did not and 60% of small businesses engaged in social media acquired a new customer. The TreDigital and PRA Public Relations partnered social and earned media solution removes the pain point of managing these growth-critical programs.
Programs are available for enterprises, non-profits, and as white-label services for agencies.
To learn more, contact: (800)509.6489, email: mariad(at)tredigital(dot)com, or visit: http://tredigital.leadpages.co/prsocial/.
About TreDigital Marketing Services
TreDigital Marketing Services is a global agency headquartered in Seattle, WA, and focused on delivering lean marketing solutions through technology and social media. The agency was co-founded by digital media expert Maria Dykstra, a Microsoft veteran with 18+ years experience working with Fortune 100 and emerging brands. Maria serves on multiple boards, and is a frequent writer, speaker and resource on the topic of digital marketing. Connect with us through our website:
http://www.tredigital.com, Twitter: @TreDigital, and Facebook: Facebook.com/TreDigital.
About PRA Public Relations
PRA Public Relations delivers earned media and digital communications strategies to a national network of Fortune 500 and emerging enterprise clients. The agency produces award-winning work with a focus in financial technology, B2B and not-for-profit verticals. Founder Pam Abrahamsson has 16+ years in the public relations field, having served as executive leadership for a national agency counting Oracle, SAP, Cisco and Western Union on its roster.
Connect with us through our website: http://www.prapublicrelations.com, Twitter: @Pam_A, and Facebook: Facebook.com/PRAPublicrelations.