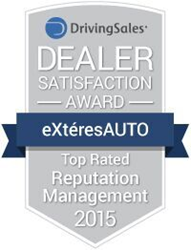 We congratulate eXtéresAUTO on being a 'Top Rated' Reputation Management Award recipient
Riverside, CA (PRWEB) February 26, 2016
eXtéresAUTO's Online Reputation Management is the recipient of a "Top Rated" Reputation Management award in the seventh annual DrivingSales Dealer Satisfaction Awards.
"We are a very pleased to again be awarded a top spot in the DrivingSales Vendor Ratings for the Reputation Management category. It is motivating and rewarding to receive this recognition from our dealer clients for the fifth year in a row. Our entire team works diligently to provide the best products and services which help make our clients the most successful dealerships in the industry," comments Richard Winch, CEO of eXtéres Corporation. Vice President of Operations Dawn Varga states, "We are thankful for our dealer partners and their on-going acknowledgement that we are helping their dealerships stand out and thrive in a very competitive market."
eXtéresAUTO's Online Reputation Management solution monitors, manages and promotes a dealership's online assets. It combines many time-saving tools such as review gathering, alerts and a unique BackOffice feature that allows dealerships to control every aspect of their reputation management efforts from one simple dashboard. By helping to improve their reputation, eXtéresAUTO assists dealerships in leveraging their "digital word of mouth" into increased sales and profits. eXtéresAUTO's ORM solution has won top awards in the Reputation Management category the previous four years.
"We congratulate eXtéresAUTO on being a 'Top Rated' Reputation Management Award recipient and for being recognized by its dealer customers for high levels of excellence and customer satisfaction," said DrivingSales CEO and Founder Jared Hamilton. "For seven years, and through over 25,000 validated reviews, DrivingSales Vendor Ratings has helped dealers make smarter, more informed decisions, leading them to outstanding service providers such as eXtéresAUTO's Online Reputation Management."
The DrivingSales Dealer Satisfaction Awards are based on cumulative ratings tallied and verified over the calendar year (January – December) at DrivingSales Vendor Ratings. DrivingSales Vendor Ratings is the industry's only neutral, comprehensive vendor rating forum featuring real-time peer reviews and honest competitor comparisons, and provides dealerships with important information from actual customers who have hands-on experience using vendor products / solutions in their stores. Each rating is verified as coming from an actual dealership employee.
Full award results are available online at http://dealersatisfactionawards.com/. Award winners are showcased in the Q1 2016 issue of DrivingSales DealerExec delivered more than 2,000 of the top used car dealers in the U.S. For more information on DealerExec, please visit: dealerexecmag.com.
About eXtéresAUTO:
eXtéresAUTO is a leading provider of Digital Marketing Technologies for the automotive industry. For the past nine years, their Reputation Management, SEO and SEM services, as well as their dealer training solutions have helped automotive industry retailers protect and improve their reputation and drive customers and traffic to their websites and stores. eXtéresAUTO's Reputation Management solution has been top-rated in dealer satisfaction from 2011 through 2015 in the annual DrivingSales Dealer Satisfaction Awards. Founded in 2006, the company is headquartered in Riverside, CA. To learn more about eXtéresAUTO, visit http://www.exteresauto.com
About DrivingSales:
DrivingSales is a professional network serving the auto industry with dealer-driven news and information, online training and performance data, all to enable dealers to make critical business decisions at their dealerships. DrivingSales' mission is to connect progressive dealership professionals to the people and information they need to maximize their success. Founded by a third-generation car dealer, and opened up to the industry in 2008, today DrivingSales has registered users in over 50% of new car dealerships in the US and is active in several other countries around the globe. To learn more about the DrivingSales community, training or performance analytics visit DrivingSales.com, DrivingSalesUniversity.com and DrivingSalesData.com
eXtéresAUTO Media Contact:
Dawn Varga (d.varga(at)exteres(dot)com), Vice President of Operations, eXtéres Corporation, 888.486.8150
DrivingSales Media Relations:
Christina DeVore (devore(at)drivingsales(dot)com), Events Marketing Director, DrivingSales, 866.943.8371 x124