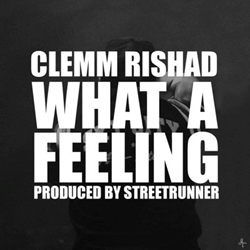 Tacoma, WA (PRWEB) February 23, 2016
It is rare that you come across a hip hop artist that is already a Grammy nominated, platinum songwriter before they hit the national scene as an artist. These are the accolades Tacoma's Clemm Rishad has already earned as half of the writing and production team Writers Block.
Today Coast 2 Coast Mixtapes announces the release of "What A Feeling", the latest single by Tacoma Hip-Hop artist Clemm Rishad. The single features production by Grammy award winning producer Streetrunner. It is currently available for streaming and download at the Coast 2 Coast Mixtapes website.
Grammy Nominated, Multi Platinum songwriter Clemm Rishad has teamed up with 2-time Grammy Award winning Producer STREETRUNNER for collaboration "What A Feeling". The Tacoma, Washington native is best known for co-writing Nicki Minaj's chart topping single "Fly", as well as penning songs with Jason Derulo, Rihanna and many other industry veterans. Clemm's work with established artists in the music business has helped paved the way for crafting his own sound and music. Clemm Rishad is ready to make his presence known in the music scene as a self made multi-faceted artist with a line up of new music he will be releasing with super producer STREETRUNNER.
"Being a songwriter has really taught me how to think outside the of box, and I've been able to incorporate that into my own material, mixing it in with what I already do," says Rishad. "Being signed as a writer to Beluga Heights and J.R Rotem has helped me format my music differently at times, and always has me thinking about how to make great songs with strong hooks."
Long before Rishad became a writer or an artist, he was the son of a pastor growing up in Tacoma. With his father's devotion to religion, and a brother who was big in the streets, Rishad grew up learning about two very different worlds and need and outlet for his thoughts.
"I had been writing poetry as a way to express myself, which I wasn't great at otherwise. Eventually that spilled over into music for me, as a way to vent and get things out," explains Rishad. "My brother was already working on music, and really helped to bring me along as an artist."
Soon enough these collaborations lead to Rishad's first release Image of Me, which was followed by Close Your Eyes and See.
Now as Rishad steps out as an artist on a larger level, he is poised to add to his growing success in music.
"I want my music to move the people and would like to be seen as a leader and a musician and not someone that is going to fall into any type of specific category," says Rishad.
Now as Rishad gears up for the release of his new project The Beginning, he is asking his growing fan base to join him on the adventure by launching an interactive campaign Journey To The Beginning that will allow fans to participate in designing the direction of Rishad's career.
Clemm Rishad is currently seeking press opportunities, interviews, features, and more. He can be reached through his official Twitter page.
About Clemm Rishad: If there's anything that should intrigue you about Clemm Rishad, it should be not only his music but his beautiful struggle as an artist. Usually the youngest in the crowd, Clemm has always been motivated to work harder by the added experience of his peers. "It's really hard being so young in a game with people who have a lot of experience over me, I always had to work harder, " says Clemm. "Which made me a better artist. I was very developed at a young age."
His quest as a musician stemmed from his early years. Writing poetry at a young age, he later developed his passion for writing into a gateway for a career in music. A pen and pad was the mirror of his thoughts, until his teenage years when he learned to turn his creative niche into music. Alongside his business savvy brother, he founded a critical framework for his understanding of the industry through a promotional team. It was this team that later turned into Sky Movement, the core of his music career today.
Core values are another stronghold in Clemm's character, instilled in him through his Tacoma, Washington household. "My dad always gave me that good motivational push." shares Clemm. With his family being of the church, he had embedded a spiritual conscious that has helped him cope with the ups and downs of the music business.
Inspirational and motivational best describe the style that Clemm has branded himself with through Sky Movment. But it goes beyond just his music, as he keeps a positive outlook on life. "My music is there to get you to your goal." he says. With a sound that is smooth and uplifting, his material is universally appealing, especially reaching out to those with big dreams. Clemm Rishad is the fresh face music fans are looking for. With music that will let you escape from your daily routine, he's an outlet that will help remind you that any dream is possible.
For more info on Clemm Rishad, visit his official Facebook fan page.
About Coast 2 Coast Mixtapes: Coast 2 Coast Mixtapes are the most widely distributed mixtapes in the world, with over 100 million downloads/plays generated by over 300 volumes officially hosted by major artists. Coast 2 Coast has a solid reach in the new music industry with a digital magazine, DJ coalition, industry tips blog, yearly convention, and more. Coast 2 Coast Mixtapes represents a unique opportunity for artists of all urban genres, from major to indie. For more information, visit http://www.coast2coastmixtapes.com.