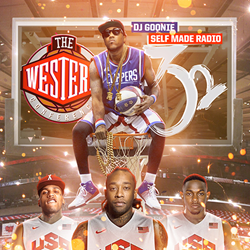 Los Angeles, CA (PRWEB) February 23, 2016
Today Coast 2 Coast Mixtapes announces the release of the "Western Conference Vol. 32", the latest mixtape hosted by DJ Goonie. The mixtape is currently available for streaming and download at the Coast 2 Coast Mixtapes website.
The mixtape features 23 tracks, including those below:
1. My Squad (Problem)
2. Crazy Girls Have The Best Lovin (Problem)
3. Really Do (DJ Goonie feat. Problem, Bad Lucc, Stoney The Dealer)
4. When I Want (Low The Don feat. Killa Twan, Oge Mucho)
5. Stojakovic (Low The Don feat. Killa Twan, Oge Mucho)
6. Way Up (AD fest. IAMSU!)
7. Promise (Kid Ink feat. Fetty Wap)
8. Thing For You (Rayven Justice feat. Honey Cocaine)
9. Me VS. Everybody (Roccstarr)
10. Don't Take It Personal (RJ feat. Fresco)
11. Gang (Vee Tha Rula feat. Kid Ink)
12. Ma Niggas (Newport)
13. '93 (Wilson)
14. Freestyle (WS Boogie)
15. Ride Of Your Life (Tinashe)
16. Feels (Hit-Boy feat. Ricky Anthony)
17. Tonight (Young Cypher)
18. I Got Your Bitch (Lil' Al B)
19. Make Em Say (Jake Papa feat. Jay 305)
20. Jams (Kevin Gates feat. TY$, Jamie Foxx, & Trey Songz)
21. Let Me Know (Problem)
22. Lit (Wiz Khalifa feat. TY$)
23. What You Need (Killa Twan feat. Low The Don)
DJ Goonie is currently seeking press opportunities, interviews, features, and more. He can be reached through his official Twitter page.
About DJ Goonie: Unlike a lot of new up and coming Hip Hop DJs, DJ Goonie has shown his versatility and extensive knowledge, not only with the use of today's digital DJing equipment, but also with his use of mixing, blending, and scratching of vinyl records and CDs on the turntables. While specializing in the Hip Hop genre, he still has a genuine love of all music, from rock to pop to soul. Originating from Los Angeles, CA, DJ Goonie, first found interest in the music industry at the young age of 9, as he would accompany his songwriting mother to the studio during her recording sessions: "Besides my mother, my musical influences are Smokey Robinson and Barry Gordy. These people have influenced me due to their business minded practices and the great successes they have obtained over they decades."
DJ Goonie went on to begin his career in DJing and producing at the age of 16, while spinning and gaining notoriety at local house parties, clubs, school events, and private parties. Gaining a Bachelor's degree in Music Business from the world-renowned Full Sail University in Orlando, FL, he has a vast knowledge of not only the technical side of the industry, but business aspects as well. Currently DJ Goonie has shown his love and passion of various music styles through the versatility displayed on his mixtapes. His hardworking and grinding mentality has lead him to independently release and distribute these mixtapes by hand, online and in the streets. He is also preparing an overseas music expansion to grant him the title of an international DJ. Currently DJ Goonie has been seen as a pioneer to the new West Movement, he gained this title through the tremendous success of his Mixtape series titled "Western Conference". This is a compilation CD of all the latest and exclusive West coast music. DJ Goonie is not just a local DJ; he is seen in several markets from all over the US as well as several overseas markets. Recently DJ Goonie has been responsible for putting on a big event that was said to unite the whole west coast. He did this by putting together the his annual Toyz-N-the-Hood toy drive. You can catch DJ Goonie spinning live at some of his weekly Hollywood hot spots such as Cameo Wednesday at club Tru, Infusion Lounge on Fridays, Rendevous Sat. at Club Lavida and Secret Sundayz Strip Club on Sundays. If you are interested in booking DJ Goonie for various events or mixtape hosting please contact him.
About Coast 2 Coast Mixtapes: Coast 2 Coast Mixtapes are the most widely distributed mixtapes in the world, with over 100 million downloads/plays generated by over 300 volumes officially hosted by major artists. Coast 2 Coast has a solid reach in the new music industry with a digital magazine, DJ coalition, industry tips blog, yearly convention, and more. Coast 2 Coast Mixtapes represents a unique opportunity for artists of all urban genres, from major to indie. For more information, visit http://www.coast2coastmixtapes.com.