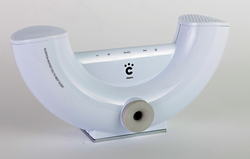 Sleepion addresses sight, hearing and smell, which play a vital part in inducing deep sleep. Switch on Sleepion and be transported into a world of good sleep
Gardena, California (PRWEB) February 24, 2016
cheero USA, maker of highly lauded accessories for digital devices, has announced the U.S. introduction of Sleepion, the world's first electronic device that promotes deep sleep through sound, light and aroma. The announcement was made by cheero USA COO Daisuke Higashi. Sleepion will be available via Indiegogo on February 17th. To view an intro video, click here. To view a CES video demo of Sleepion, click here.
Sleepion = Better Living
"We wanted to create a scientifically designed product to help those who cannot sleep, or suffer low quality of sleep," says Higashi. "cheero is about creating helpful devices. Most people only think of mattresses and pillows when thinking about sleep equipment, but that only satisfies the sense of touch. Sleepion addresses sight, hearing and smell, which play a vital part in inducing deep sleep. Switch on Sleepion and be transported into a world of good sleep."
The Device
Sleepion comes complete with everything needed to help induce deep sleep. The smile shaped unit can be positioned vertically or horizontally. One touch activates the device. A speaker resonates soft, natural sounds that resemble prenatal environments and breathing. At the same time, a light from the Sleepion unit glows, simulating the moon, which science has shown regulates human biological rhythms. Light is characterized by its color temperature, and luminance. The optimal levels for sleep are 2700k in color and 35% in luminance, which perfectly mimics natural moonlight. Moonlight innately gives people a strong sense of security before falling asleep.
Fragrances
The resonant sound tube of the Sleepion gently activates a 100 percent natural oil blend to create the proper aromas for sleep. Three oils, geranium, cedar and lavender were exclusively developed for cheero by fragrance professionals to infuse unique scents that promote and extend the deepest levels of rest.
Made in Japan, Proven in Sleep Studies
The Sleepion device is made in Japan, in colors of white, pink, blue, green and black. There will also be several stunning Urushi models offered (featuring Japanese lacquer with woodblock printing). Sleepion was tested and proven to shorten the time of transition into slow wave sleep (by 18% on average), shortened SOL (sleep onset latency) or how long it takes to get to sleep (16.7% on average) and the change of relaxation (measured by concentration of Immunoglobulin A/S-igA). Using Sleepion increased this important marker in sleep study subjects by an average 18.3%. (see attached slides from the University Research Institute in Japan).
Numerous Applications
Sleepion is great for travelers continually exposed to alienating hotel environments as well as everyone that has never been able to fully develop healthy sleep habits. "We know that resting the brain is essential for quality of life," says Higashi. "More than ever, people suffer from sleep disorders. Sleepion improves the sleeping environment for better living."
About cheero USA
cheero means your "cheerful digital life." cheero USA is located at 1411 W. 190th St., Suite #200 in Gardena, California 90248. For more information, email us at info_usa(at)cheero(dot)net Please visit our cheero USA Facebook Fan Page.