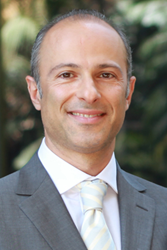 "With ThermiVa, our patients find relief from incontinence, reduced sexual satisfaction, and physical discomfort," said Dr. Michel
Beverly Hills, CA (PRWEB) February 25, 2016
ThermiVa is a non-surgical treatment that strengthens loose or stretched tissue and muscle in the vaginal canal as well as the inner labia with only thermistor-regulated radiofrequency energy. This breakthrough treatment safely and effectively strengthens skin and muscle tissue, enhances nerve sensitivity, treats vaginal laxity, and even increases blood vessels in the treatment area to restore elasticity and wellness. As part of its use in cutting-edge urology care, the team at Comprehensive Urology is proud to announce that it is the first in Los Angeles to offer non-surgical vaginal rejuvenation through the use of ThermiVa.
"ThermiVa is a revolutionary solution to a problem that many people don't know about," said urology specialist Dr. Kia Michel. "Having children, weight fluctuations, and other medical conditions can cause vaginal muscles and surrounding tissue to become stretched or weakened, resulting in a number of uncomfortable or painful problems. With ThermiVa, our patients find relief from incontinence, reduced sexual satisfaction, and physical discomfort."
ThermiVa is administered using an "S" shaped device with smooth curves to ensure comfort when treating the internal or external anatomical features of the vagina. Each session takes only 15 to 30 minutes, and it is recommended that women undergo a series of three sessions over a three-month period to ensure the best results possible.
"Our patients notice a difference just minutes after a ThermiVa session is completed," added Dr. Michel. "The treatment helps stimulate the body's natural collagen production in the treated area; therefore, patients will typically enjoy full results within three to four months after the final session."
ThermiVa can be used to treat a variety of conditions, such as vaginal dryness, skin laxity, difficulty reaching orgasm, and urinary incontinence leakage. The full results can last from nine months to a year following treatment and can be repeated to maintain strength and nerve function.
"ThermiVa is an ideal treatment option for a wide range of urological and pelvic floor issues," said Dr. Michel.
However, it's important to undergo ThermiVa therapy with an urologist who has extensive training and experience with treating conditions that affect the pelvic floor. When it comes to treating urological conditions, such as incontinence, there are specific muscles and structures that need to be treated. Simply tightening the vaginal canal and outer labia to create a younger vaginal look and physiology will not provide the same results.
Kia Michel M.D. earned his medical degree at the University of Washington School of Medicine and completed his residency at UCLA. He has also been recognized as a National Pfizer Scholar. As one of the founding members of the reputable Comprehensive Urology Medical Group, located in the Cedars-Sinai Medical Towers in Los Angeles, California, Dr. Michel treats a host of urologic diseases. One of the few urologists who is both an acclaimed vaginal and pelvic floor surgeon with expertise in minimally invasive therapies, Dr. Michel is a compassionate doctor who has dedicated his career to providing state-of-the-art care for his patients with a warm, nurturing touch. In addition to Comprehensive Urology, Dr. Michel is also a founding member of the Integrated Prostate Cancer Center in Los Angeles, an advanced facility dedicated to the treatment and prevention of prostate cancer.
Comprehensive Urology is a renowned urological practice in Los Angeles that provides state of the art urological care in a personalized and compassionate environment. The physicians at Comprehensive Urology are board-certified urologists with specialty training in a number of different aspects of urology and provide tailored care for their patients with outstanding results.
Call them today 888-562-0929 at or visit their website: http://www.comprehensive-urology.com.