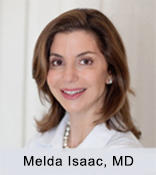 "Kybella and CoolSculpting can be very successful for people who have had little to no success with traditional exercise and diet on hard to sculpt areas," said Dr. Isaac
Washington, DC (PRWEB) February 25, 2016
With the start of each new year, millions of people resolve to take their health and fitness seriously, whether it means losing ten pounds or fifty. Gym memberships soar in the month of January, but all too often the influx of new members has peaked and died off well before Valentine's Day, whether their goal has been reached or not.
However, failure to stick with a rigid diet and exercise plan - some of which can be unrealistic or downright unattainable - does not mean that consumers are stuck with unwanted extra pounds, or other aspects of their appearance they wish to change.
"It used to be that there was not really much a person could do to get rid of a double chin for example, even through rigorous diet and exercise," said Dr. Melda Isaac, a board-certified dermatologist and founder and director of D.C. based MI-Skin Dermatology and Laser Center. "Now it is possible for both men and women to spare themselves the disappointment, which can often be quite expensive over time, of gym memberships that may not really help them to achieve their goals. While physical exercise is certainly necessary to stay healthy, treatments like Coolsculpting and Kybella are helping people get the physical results they want, and spend their active time enjoying the activities they prefer without feeling the need to log countless hours on a treadmill."
Kybella is an FDA approved cosmetic injectable that helps to melt stubborn chin fat. MI-Skin Dermatology and Laser Center was among one of the first dermatological practices in the country to offer Kybella to patients. CoolSculpting is a non-surgical body contouring procedure that freezes fat cells without surgery or scars.
"While the results of Kybella and CoolSculpting are progressive and do not typically offer instantaneous, overnight results, they can be very successful for people who have had little to no success with traditional exercise and diet on hard to sculpt areas like the abdomen and double chin," added Dr. Isaac. "This is why we are seeing a rise in the number of people choosing cosmetic procedures over spending hours on end at the gym for their new year's resolutions."
Dr. Melda Isaac is a board-certified dermatologist located in Washington, DC. Her practice, MI-Skin Dermatology Center, is a comprehensive skin care practice which offers the latest and most advanced state-of-the-art technology to improve the skin's appearance. Dr. Isaac obtained her medical degree from Penn State University, and completed her dermatology residency at George Washington University. She is an active member of the American Academy of Dermatology, the American Society for Dermatologic Surgery, the Women's Dermatologic Society, the American Society for Laser Medicine and Surgery, and the Washington, DC Dermatologic Society.
You can find out more about Dr. Isaac and MI-Skin Dermatology Center at http://www.mi-skin.com.