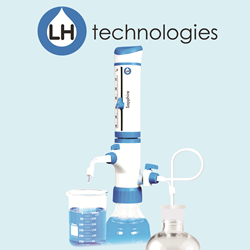 "Now, for the first time ever, a user can perform several dispensing tasks without dismounting the instrument."
(PRWEB) February 29, 2016
A revolutionary new bottle top dispenser will be showcased at the LH Technologies booth 1046 at the Pittcon 2016 Conference and Exhibition. The conference takes place March 6-10 at the Georgia World Congress Center in Atlanta, Georgia.
The new Sapphire Bottle Top Dispenser features a patented Dual-Valve Technology that allows operators to perform several dispensing tasks without dismounting the instrument.
"All bottle top dispensers on the market today are equipped with only one valve. The Sapphire Bottle Top Dispenser features a patented dual- valve technology to save time in the lab", says Raj Soni, President of LH Technologies. "Now, for the first time ever, a user can perform Dilution, Rinsing, Dual Liquid Handling and Recirculation using a single dispenser."
Attendees should stop by LH Technologies booth 1046 to see the new Sapphire Bottle Top Dispenser and other innovative liquid handling products. Experts will be available to discuss challenges with chemical dispensing in the research lab and offer tips on how to improve efficiency.
Live Demonstration - Monday, March 7, 1:00 PM, Demo Area 1 (Booth 2565)
See the many advantages of this new technology
Learn how to save time and reduce reagent waste
For questions or to arrange an interview with an LH Technologies representative, contact Raj Soni at info(at)LHTechno(dot)com or call 847-336-7556.
About LH Technologies, LLC
LH Technologies specializes in high-quality liquid handling instrumentation designed around the needs of researchers in pharmaceutical, R&D and academic laboratories. Our products are produced in an ISO 9001:2008 manufacturing facility that has over 20 years experience engineering liquid handling products. For more information, visit http://www.LHTechno.com.