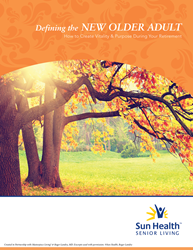 SURPRISE, ARIZ. (PRWEB) February 24, 2016
Nonprofit Sun Health and Dr. Roger Landry, physician, author and founder/president of Masterpiece Living®, have collaborated on a new e-book aimed at helping older adults get more out of life.
"Defining The New Older Adult: How to Create Vitality & Purpose During Your Retirement," contains Dr. Landry's tips for successful aging based on Masterpiece Living's four principles, centered on physical, social, intellectual and spiritual development. To download a complimentary copy of the e-book, go to http://www.sunhealthseniorliving.org/defining-the-new-older-adult.
All three of Sun Health senior living communities have been members of the Masterpiece Living program since 2011. Guided by the MacArthur Foundation's research on aging, Masterpiece Living helps senior living communities become places where residents and staff members celebrate the many positive aspects of aging.
In addition, Dr. Landry will be a keynote speaker at Sun Health's annual Board of Directors and Community Leaders Retreat, Feb. 26, at The Colonnade, a Sun Health Life Care community in Surprise. He will speak about "Successful Aging - A Population Health Necessity."
Dr. Roger Landry is a preventive medicine physician, author of the best-selling book, "Live Long, Die Short," and founder/president of Masterpiece Living, a group of multi-discipline specialists in aging who partner with communities to assist them in becoming destinations for continued growth. Trained at Tufts University School of Medicine and Harvard University School of Public Health, Dr. Landry specializes in building environments that encourage older adults to maximize their unique potential.
About Sun Health
A long-standing champion of healthy living and superior health care, Sun Health is a community-based non-profit organization providing pathways to population health through philanthropy, senior living programs and communities, and community wellness programs and services. Sun Health Senior Living includes three independent-living Life Care communities (Grandview Terrace in Sun City West, La Loma Village in Litchfield Park and The Colonnade in Sun City Grand/Surprise) and Sun Health at Home, the first "continuing care at home" program in the Southwest.
Learn more at http://www.sunhealth.org and http://www.sunhealthseniorliving.org