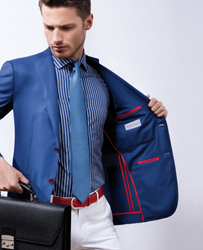 New York NY (PRWEB) February 24, 2016
The Ravazzolo Spring Summer 2016 Travel 7/24 capsule line speaks of comfort and sophistication. Made with an exclusive blend of wrinkle-free wool, the 7/24 jackets and suits showcase an impeccable tailor made construction while offering excellent protection, comfort and breathability.
By weaving multiple strands of thin wool yarns together, the fabrics are endowed with a bounce-back ability that results in crease and wrinkle -free qualities.
"Our Travel jacket" says Andrea Ravazzolo, CEO of the namesake Italian menswear brand, "is a must-have for men who want to be fashionable and elegant while being comfortable and not being worried of looking distressed. Our special wrinkle-free fabrics, combined with the sartorial construction of the garment, allow men to always feel a posto, no matter how extensively they are traveling. At Ravazzolo we call this elegance 7/24, all week long for 24 hours a day."
The history of the Ravazzolo family in the manufacture of men's tailoring goes back to the beginning of last century, drawing from a past of tradition and knowledge. Now, at the threshold of sixty years of activity, Ravazzolo combines the best principles of Venetian tailoring with the most sophisticated manufacturing methods.