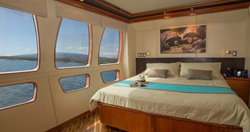 The 8-day Galapagos tour is the Majestic's most comprehensive itinerary.
Glendale, CA (PRWEB) February 26, 2016
Goway Travel is bringing one of the world's dream trips closer, offering savings of up to $2000US/$2800CA on one of its most popular Galapagos travel programs.
The Majestic Motor Yacht is specifically designed to cruise the Galapagos, providing luxurious accommodation across its nine spacious, air-conditioned double cabins, each with a private bathroom. Passengers can opt for a 4, 5, or 8-day cruise aboard the Majestic. With each itinerary taking in a number of islands, passengers are sure to see a wide range of the Galapagos' unique sights and wildlife.
The 8-day Galapagos tour is the Majestic's most comprehensive itinerary. The focus, of course, is on the colourful birds and marine life, including Blue-footed Boobies, Albatrosses, Flamingos, and Giant Tortoises among others. But passengers also visit Charles Darwin Research Station for an in-depth look at the conservation work being done here, as well as Post Office Bay, where a wooden box used by whalers in the 18th century is still (occasionally) in use today.
Goway is offering a saving of up to $2000US or $2800CA per couple on selected Majestic itineraries. Passengers will also receive one night's complementary pre-cruise accommodation at the JW Marriott Hotel, Quito.
Since 1970, Goway has been providing unforgettable travel experiences to Africa, Asia, Australia and New Zealand, polar and idyllic island destinations, Europe and South America. Today Goway is recognized as one of North America's leading travel companies for individuals, families and groups to select exotic destinations around the globe. Goway has offices in Los Angeles, Vancouver, Toronto, Manila, and Sydney (Australia).
For reservations and information, visit http://www.goway.com, or call 1-800-387-8850.