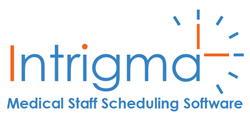 Unlike other software packages we reviewed, Intrigma isn't just a punch card solution, it was the only product that understands the complexity of our schedule needs well enough to help us deliver the patient and staff experience we strive for
New York, NY (PRWEB) February 24, 2016
Intrigma, the first provider of value-based vital resource coordination solutions for the healthcare industry, announced today that CityMD has selected Intrigma Efficient Works tool to continue their quest for operational excellence by optimizing staff schedules across more than 50 facilities. CityMD, a fast-growing, quality-focused urgent care system based in New York City, is founded on the principles of providing high quality care quickly and efficiently. The healthcare innovator is using Intrigma medical staff scheduling software to optimally schedule clinicians, medical scribes and ancillary staff to shifts. CityMD will also use the online medical scheduling software determine the optimal length each shift should be, and when each shift should start for the most effective delivery of care and patient flow.
Intrigma will be exhibiting at the HIMSS 16 Conference and Exhibition in Las Vegas February 29 - March 4th at Booth 11112 in Hall G. CityMD will be in attendance to discuss their implementation. Interview requests should be submitted in advance to the contacts listed with this press release.
"Our number one priority is meeting the needs of patients and our staff with kindness," said Daniel Rothman, vice president of corporate strategy for CityMD Urgent Care. "When we realized the headache that our complex scheduling needs created for our scheduling staff, we started looking for solutions. Unlike other software packages we reviewed, Intrigma isn't just a punch card solution, it was the only product that understands the complexity of our schedule needs well enough to help us deliver the patient and staff experience we strive for."
Matching physicians to expected patient volumes is difficult, particularly in a rapidly expanding organization with many new regions where historical data is not relevant or available. Senior physicians were spending an unacceptable number of hours each month to prepare schedules for all 50 sites, time that highly skilled individuals could have been spent with patients. Now, the organization is minimizing administrative time and applying those hours to attaining high levels of quality care delivery.
"Scheduling and staffing optimizations are costly and time consuming activities that must take staff requests and preferences into consideration, as well as trying to predict seasonally varying patient needs, and other operational considerations," said Tal Eidelberg, CEO of Intrigma. "Using analytics, automation, and most importantly a very user friendly interface we help healthcare schedulers to easily produce the most efficient schedules for both doctors and nurses in complex environments where such things were previously impossible. This translates into safer care and higher patient satisfaction and at a significantly lower cost due to efficiency gains."
CityMD's advanced scheduling needs included:

Determining how long shifts should be, and what time each shift should start based on heat maps
Automatically scheduling physicians to shifts
A unified enterprise-wide solution that would schedule the various types of staff members: physicians, advanced practitioners , scribes, medical assistants, X-Ray techs, and patient care representatives
Tight integration with the time and attendance system
About CityMD
Founded in 2010, CityMD urgent care is dedicated to setting an unprecedented standard of medical care for patients and an enriching work environment for its employees. The company's "People First" philosophy and state-of-the-art personalized healthcare delivery system has taken CityMD from a single Upper East Side practice in Manhattan to 52 (and counting) practice locations in Manhattan, Long Island, Rockland/Westchester, New Jersey, Brooklyn, Staten Island, the Bronx, and Queens.
About Intrigma Efficient Works
Intrigma Efficient Works helps healthcare organizations reduce the amount of time spent building schedules, preparing staffing plans, and calculating payroll by up to 90 percent. The solution is unique in its ability to simplify complicated scheduling workflows for both physicians and nurses, and create optimal patient flow for efficient delivery of healthcare. The HIPAA-compliant cloud-based solution includes a free mobile application, enabling better communication between teams and improved retention of skilled staff. Efficient Works is available in Free and Premium versions.
Get started today with Intrigma's always-free scheduling solution: http://www.intrigma.com/freescheduler/
About Intrigma
Intrigma Inc. is the first solution of it's kind to provide comprehensive vital resource coordination systems, enabling healthcare providers to optimally schedule staff and deliver cost-effective, quality healthcare. Founded in 2004, with headquarters in New York City, Intrigma customers include Columbia University Medical Center, Sutter Health, the Ochsner Healthcare System, and Legacy Health System, and hundreds of other healthcare organizations in the US and internationally. For more information, please visit http://www.intrigma.com, or connect with us on Twitter, Google+ or LinkedIn.