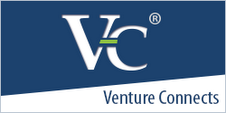 "What it comes down to is time. On the one hand, entrepreneurs have to choose whether to run their business or raise capital; they can do one successfully, but not both.
Chicago, Illinois (PRWEB) February 24, 2016
Early-stage startups that are looking for funding often have difficulty in finding the right avenue in which to raise capital. So too do accredited investors seeking to invest in those early-stage companies without having to expend valuable time to complete the necessary due diligence when deciding where to invest their hard-earned dollars.
Enter Venture Connects, a platform that not only brings together entrepreneurs with investors, but also vets each startup through a curated process involving both the traditional due diligence – legal, financial and market analysis – as well as preparation of a startup's presentation, including time with professional speaker development and coaching firm SquarePlanet Presentations + Strategy.
Venture Connects was founded in 2012 by RJ Pahura and John R. Pangere, who both saw the need to help entrepreneurs seeking funding and accredited investors looking for alternative investments be brought together. "Having had first-hand experience in trying to raise capital for the numerous startups I have been involved in previously, we thought, there has to be a better way," said RJ Pahura, CEO of Venture Connects. "It's not just about giving the next pitch, it's telling the right story, to the right people at the right time. Our goal at the outset was always to broaden the reach of startup investing past the traditional avenues of angel groups and people in the know, to those that qualify as accredited investors but may not know how to get involved. "
Since inception, Venture Connects achieved this through live demo days, in which startups presented to accredited investors much in the same way as with angel groups. In the next few weeks, Venture Connects is launching its new online platform where investors will be able to view and invest in vetted startups.
In contrast to other platforms, which offer open marketplaces of startups for investors, Venture Connects deliberately keeps its community of startups small to provide for more highly vetted, high quality startups for investors to choose from, with securities being offered through broker-dealer North Capital Private Securities.
Says COO and Managing Director, John Pangere, "What it comes down to is time. On the one hand, entrepreneurs have to choose whether to run their business or raise capital; they can do one successfully, but not both. On the other, accredited investors don't have the time to vet a deal the way a professional investor does and outside of helping to raise capital and vet startup investment, that's part of what we're providing: time."
While Venture Connects doesn't have a specific set of requirements for startups, Pangere says they look for those that have already gained traction, earned revenue and have raised some form of capital.
What sorts of companies fit within the Venture Connects community? "Pretty much anything we can understand and that we believe makes money, with the exception of bio-tech. We're not medically trained so we feel we don't have the expertise in that field," said Pahura. "We believe in our mission in that we're providing a bridge to bigger, better business." Keep in mind that early-stage investing entails a high degree of risk and may not be suitable for all investors.
About Venture Connects
Venture Connects is a leading startup investing program and platform that connects early stage startups with accredited investors and business partners. To date, the company has worked with nearly 40 startups, all of which are currently operating independently or have been acquired. Venture Connects offers equity securities through North Capital Private Securities Corp., registered broker/dealer and member FINRA/SIPC. For more information on how to become a Venture Connects investor or to seek capital through the Venture Connects marketplace, please visit http://www.ventureconnects.com.