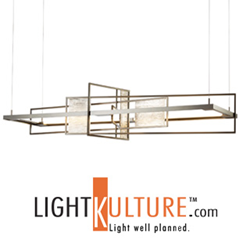 Designers and architects are familiar with the quality of Hubbardton Forge, but are pleasantly surprised to see so many new contemporary additions to the line.
San Francisco, CA (PRWEB) February 25, 2016
LightKulture.com is delighted to feature the beauty and elegance of the new Hubbardton Forge LED chandelier collection. "The just-released 2016 catalog is filled with so many exciting new designs, I can't put it down," noted Susan Inderbinen President of LightKulture.com. This year Hubbardton Forge stretched their talent and imagination to create a number of extraordinary LED chandeliers and LED pendants that seem to defy the confines of working with iron. The bends and curves, twists and turns actually trick the eye into thinking the base material could be glass, or perhaps a technopolymer that resembles iron. In fact, it is the artisan-like craftsmanship of hand forged iron that cannot be duplicated by machine, or created out of any other material. The shapes and configurations are truly curious and thought provoking, while at the same time, soothing and pleasant to admire. The 4 Seasons Collection is an excellent representation of inspiration and manufacturing know-how.
Summer, Autumn, Winter and Spring are each interpreted by the designer to capture the whimsy and playfulness of each season. Depth and emotion, radiates through hammered iron, textured glass and rich metal finishes, to create an inviting feeling of warmth and home. The 4 Seasons starts with Hubbardton Forge Summer LED chandelier. This 54" wide rectangular fixture pays tribute to the company's arts and crafts roots. Think of box kites, sailboats at the beach. Summer features rectilinear lines. Autumn is inspired by the company's traditional hand-forged designs, but has a more stylized graphic approach. The Autumn LED chandelier looks like leaves suspended in air, as if they were blowing through the wind. The Winter LED chandelier is the most contemporary piece of the 4 Seasons Collection. Winter features multifaceted, polished-aluminum snowflakes that yield a crystalline effect to create a dramatic display of light and shadow. Finally, there is Spring. The Spring LED chandelier is inspired by raindrops cascading down a trellis. Each glass raindrop captures the light, resulting in an unexpected sparkle.
For more information go to
Hubbardton Forge - http://www.lightkulture.com/brands/Hubbardton-Forge.html
LightKulture.com Spotlights The Newest LED Hand-Forged Chandeliers for 2016 by Hubbardton Forge
"At LightKulture, we strongly support the Hubbardton Forge brand. I feel like a kid in a candy store. While European contemporary lighting has been a strong trend, we also have demand for high quality, hand-made lighting fixtures that are made in America. That is a very tall order, as fewer lighting brands actually manufacture products themselves, and ever fewer are made in the United States. Designers and architects are familiar with the quality of Hubbardton Forge, but are pleasantly surprised to see so many new contemporary additions to the line. Homeowners take a sense of ownership in selecting their fixtures, while being able to choose the metal finish and often times, select their own glass or fabric shade. In many cases, these are really custom made fixtures. Contemporary does not always have to be made in Europe, cold, chrome and geometric all the time. The 4 Season collection represent just 4 of hundreds of styles to choose from. We had a hard time narrowing down our showroom and online selection, which we continue to expand as fast as we can. One of my personal favorites is the Theta LED chandelier which showcases mixed metals to create a unique setting sun design. Visit our site to see our favorite introductions. We hope you are inspired to add the beauty of hand-forged iron sculptures and the brilliance of LED lighting to your home," noted Susan.
About LightKulture.com
At LightKulture.com, our mission is to offer the finest energy efficient contemporary lighting and light fixtures from around the world. We have assembled an exciting collection of the industry's most innovative decorative and architectural lighting.We are proud to offer lighting solutions for both your home and work-life environments. Simplicity in design is complicated, function makes it last. Be inspired by our range of essential designs from well respected American and European manufacturers. In today's world, energy efficient lighting is as important as eco-friendly or green lighting fixtures, such as LED or CFL lighting. We offer the very best energy efficient lighting and light fixtures, both high value LED lighting fixtures and CFL lighting fixtures in modern and contemporary styles that provide quality, innovation and authenticity.
LightKulture
http://www.lightkulture.com/
Email. sales(at)lightkulture(dot)com
Tel. 941-330-0422