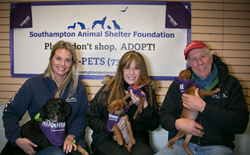 I take great comfort in knowing that all the shelter dogs and cats will now have the opportunity to be protected thanks to ParaDefense.
New York, NY (PRWEB) February 24, 2016
Jill Rappaport, award-winning animal advocate, journalist and best-selling author, has joined CapInnoVet to introduce ParaDefense, the first generic imidacloprid/pyriproxyfen product available through shelters and veterinary clinics nationwide with the same active ingredients as Advantage® II*. To celebrate the launch, Jill Rappaport is working with ParaDefense on a national awareness campaign highlighting the importance of flea treatment and preventative pet healthcare for the neediest of pets, those just rescued.
ParaDefense kicked off the campaign at Southampton Animal Shelter last week by donating the first of 1,000 doses of monthly flea treatment to protect dogs and cats recently rescued and soon to be up for adoption. The first pets who received ParaDefense were those just rescued as part of Animal Lighthouse Rescue arranged by Kate McEntee, Director at Southampton Animal Shelter. "Ten dogs arrived safely from Puerto Rico just this weekend. They are doing great and thanks to ParaDefense they are now protected from fleas and will soon be ready for adoption," says Dr. Teri Meekins, staff Veterinarian at Southampton Animal Shelter Foundation. "It is critical that shelters like ours have access to lower cost, high quality medications." The donated ParaDefense will be used on all the shelter pets and will be given to future adopters to make sure their pets will be protected from fleas throughout the summer season.
Rappaport joined the ParaDefense campaign to raise awareness of the need for preventative healthcare for all pets and to encourage pet lovers across the country to support disadvantaged, just rescued pets. "Trusted flea protection, which is crucial for our pets, is now available as a low-cost alternative at shelters and veterinary clinics. I take great comfort in knowing that all the shelter dogs and cats will now have the opportunity to be protected thanks to ParaDefense" says Rappaport.
ParaDefense has the proven ingredient Imidacloprid and the insect growth regulator Pyriproxyfen; the same active ingredients in the same concentration as found in well-known flea control. This once-a-month, topical flea prevention and treatment comes in a convenient, fragrance-free formulation. The difference in the new product is the price, not the benefits:

Kills all flea life stages
Starts working through contact
Kills fleas that may cause flea allergy dermatitis
Stops existing flea infestations and prevents reinfestation
Kills fleas on dogs within 12 hours of initial application
Remains effective even after bathing
ParaDefense is available in two sizes for cats and four sizes for dogs exclusively through your licensed veterinarian or shelter. Please visit ParaDefensePet.com for more information.
For more information about Southampton Animal Shelter Foundation, please visit SouthamptonAnimalShelter.com.
About CAP IM Supply, Inc.
ParaDefense is an EPA registered flea medication distributed by CAP IM Supply, Inc., a wholly owned subsidiary of CapInnoVet. CAP IM Supply, Inc. is a company dedicated to helping pets live healthier, happier lives by providing better access to high quality, low cost companion animal medications. ParaDefense is EPA registered and made in the USA.
*ParaDefenseTM is not manufactured by or distributed by Bayer. Advantage® II is a registered trademark of Bayer Healthcare LLC.
# # #