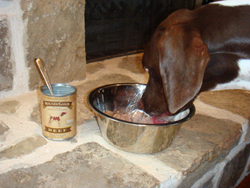 Pet food labels can be quite deceptive, leading people to think they are feeding their cats and dogs a good portion of meat, when they are in fact not doing that, explains Will Post, founder and CEO, Hound & Gatos Pet Foods Corporation.
New York, New York (PRWEB) February 24, 2016
As people make their decisions about which pet foods to purchase, most of them see descriptions that sound like wholesome dinners for their furry friends. With names like "chicken dinner" and "beef for dogs" people assume they are getting a healthy meat-based food, yet upon closer inspection, they may find that those labels are a bit misleading about what's really inside the can, bag, or box. The more people investigate the ingredients and claims made by popular pet food companies, the more they begin to see that there is a good chance their cat or dog is eating more grains and fillers than real meat.
"Pet food labels can be quite deceptive, leading people to think they are feeding their cats and dogs a good portion of meat, when they are in fact not doing that," explains Will Post, founder and CEO, Hound & Gatos Pet Foods Corporation. "Most people don't see the products for what they are beyond the millions spent to advertise them and make them look like a great purchase at the store. Many don't realize it's imperative to add real meat, such as what we offer, to dry kibble for pets, too."
While feeding pets all meat is ideal and best for them, people will be surprised to learn the realities of what is in the pet food once they begin to read labels and delve deeper. Even some of the sources of meat that are claimed to be in the product are questionable. What consumers often find on the ingredient label is "meat meal" or "meat and bone meal." According to the Association of American Feed Control Officials, these are both variations of rendered animal tissues, and unlike using the term "meat" and "meat byproducts," the products can come from other animals outside of cattle, pigs, sheep, or goats, without it being described on the ingredient list. In other words, pets could be eating animals that consumers don't want in their pet foods, including other euthanized cats and dogs.
When it comes to understanding pet food labels, a lot of it comes down to how the terms are used to describe the contents. Some of these specific terms are regulated by the Food and Drug Administration (FDA), which include the FDA specifics of:

For the 95 percent rule, it applies to pet foods that have very few ingredients. If a pet food is called "Beef for Dogs" or "Tuna for Cats" then it has to be at least 95 percent beef or tuna, respectively.
For the 25 percent rule or dinner rule, which applies to canned or dry pet foods, and allows for a pet food to be called a "dinner" if it contains just 25 percent of the specified meat. What that means is if there is a pet food touted as being a "chicken dinner for dogs," then it only has to contain 25 percent chicken. The other 75 percent of contents can be derived from grains, fillers, etc. The problem with being filled with grains is that they are carbohydrates, which turn to sugar, and may result in the pet getting diabetes.
If a pet food is claiming to be a "dinner" that includes to meat sources, such as "chicken and fish dinner for cats" then the combined chicken and fish need only to make up 25 percent of the meal.
No specific percentages are required for the "flavor" rule. For example, a pet food that says "beef flavor dog food," doesn't have to have beef as the meat ingredient. Other animal products, grains, and fillers can be used that have been enhanced with artificial flavors.
According to the FDA, any claim that the product is complete, balanced, or 100 percent nutritious (or similar claims) must meet those certain claims by being fortified with vitamins and supplements.
The term "natural" on a pet food virtually means nothing, because there is no set definition in the industry for what it is. The same goes for terms such as premium, super premium, etc. Even the word "organic" on pet foods does not have an official meaning at this time, because there are no official rules governing the labeling of organic pet foods. Regulations are currently being developed by the U.S. Department of Agriculture.
"When people begin to learn these terms as it relates to pet foods they will never look at the bags, cans, and boxes the same again," adds Post. "They can be deceptive and make people think they are purchasing an all-meat product for their pet, when really they are giving them 25 percent meat and 75 percent of grain, fillers, and other unnecessary ingredients. The best way to feed your pet healthy is to learn all you can about the options and make wise decisions."
Hound & Gatos Pet Foods Corporation is a leader in healthy pet foods, and three-time winner of the "Most Trusted Pet Foods" award by TruthAboutPetFoods.com. Additionally, the company has won the "Top Approved Pet Foods" three years in a row by Whole Dog Journal. The company, uses only the best sourced ingredients, uses 100 percent meat, makes their pet food right in South Dakota, and offers complete DNA disclosure to show the source of the meat used in their foods. They never use things found in other popular pet foods, such as generic livers, carrageenan, chemicals, unidentifiable additives, and preservatives. They have also never had any of their food recalled.
Hound & Gatos Pet Foods strives to help owners obtain the best quality products for their pets, and they deliver with 100 percent animal protein with no fillers. Visit http://www.HoundGatos.com and discover the difference of premium quality hypoallergenic pet food. The products are distributed through Animal Supply Co., Pet Food Experts and Canada's Global Pet Foods. The foods are also available in Canada, at PetOnly.CA.
About Hound & Gatos Pet Foods
Hound & Gatos Pet Foods is a result of one pet lover's vision of providing only the best for his beloved pets. Will Post, CEO and founder, began Hound & Gatos with the mission to deliver the nutrition his four pets (two Savannah cats and two bird dogs) needed and deserved to be healthy. Today, Hound & Gatos Pet Foods provides award winning 100 percent animal protein (DNA tested) dog and cat foods with no fillers for pet lovers and their special pets across the United States and Canada. Customers can ask stores to carry the pet foods, which are supplied through distributors. For more information, visit http://www.HoundGatos.com.
# # #
Source:
Association of American Feed Controls Officials. What is in pet food. http://www.aafco.org/Consumers/What-is-in-Pet-Food
FDA. Pet Food Labels – General. http://www.fda.gov/AnimalVeterinary/ResourcesforYou/ucm047113.htm