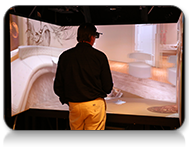 The AOG is well established as the premier networking forum for oil and gas industry professionals
Perth, Australia (PRWEB) February 25, 2016
Christie®, a leader in creating and sharing the world's best visual and audio experiences, is showcasing a range of advanced visualization solutions at the 2016 Australasian Oil & Gas Exhibition & Conference (AOG), at the Perth Convention and Exhibition Centre, February 24-26.
The Christie booth at No. O8 features an eye-catching lineup of leading technologies and solutions for the oil and gas industry that not only offer outstanding performance, but also are also affordable and backed by years of proven industry experience and technical expertise. Visitors can experience a stunning demonstration of the Christie HoloStation, a self-contained, turnkey solution that delivers high-resolution and immersive 3D within a compact footprint. With up to 16.8 megapixels of data in a 3D stereoscopic and interactive tracked environment, this powerful, efficient and durable visualization workstation is ideal for oil and gas exploration.
Also showing is the Christie FHQ842-T UHD interactive LCD flat panel, which offers exceptional image quality, robust touch capability and performance at an affordable price. This 84-inch large-format UHD panel has 10-point multi-touch capability, built-in speakers and is future proofed with an OPS slot. Designed for 24/7 operation and backed by Christie's renowned service and support, the Christie FHQ842-T incorporates easily and economically into any location.
Companies looking to equip their control rooms or operations monitoring centers with large, high-performance visualization solutions can check out the image quality and contrast of the Christie FHQ981-L 98-inch UHD LCD display. Besides 4K resolution, it features an OPS slot for compatibility with digital signage devices and pluggable media players, built-in speakers, USB inputs and multi-window capability.
Rounding out the product showcase is the Christie® Phoenix® open content management system and the Christie Phoenix Quad-T. A network streaming solution at its core, Christie Phoenix allows users to collaborate, synthesize and generate fast and accurate decisions in even the most critical situations, while the Christie Phoenix Quad-T can be installed in a Phoenix network anywhere it is needed to control and encode real-time information sources. With the Phoenix Quad-T, users have more flexibility and scalability to acquire additional high quality, remote video and control signals over IP networks, so team members can access more data simultaneously from multiple locations.
"The increasing complexity of information flow has prompted companies in the oil and gas industry to leverage our visualization technology and solutions for monitoring and managing data and information," said Michael Bosworth, general manager, Christie Australia. "Our wide range of innovative, functional, and intuitive visualization and control room solutions offering up to 4K resolution caters to different needs and budgets,. They are designed to increase the efficiency and productivity of companies in the oil and gas industry by ensuring accurate, timely information for engineers, technicians and analysts."
Lin Yu, Vice President, Christie Asia Pacific, added, "The AOG is well established as the premier networking forum for oil and gas industry professionals, and we are pleased to demonstrate how our advanced visualization solutions can add value to users from this industry. With a string of world class Australian LNG projects making the transition from the construction to operational phase, there are certainly opportunities for companies to consider visualization displays and solutions where Christie has a strong record of accomplishment. Our impressive product showcase will demonstrate how our leading visualization displays and collaborative tools can deliver the performance, reliability and value that companies in this industry can depend on."
Currently in its 35th year, the AOG attracts over 500 exhibiting companies from 25 countries, and draws more than 15,000 visitors and conference delegates from around the world. It provides opportunities for businesses to network and learn about the latest technological and technique breakthroughs that will drive the industry into the future. This year, the event features a theme of "Collaboration," with over 100 experts from leading companies supplying input on how industry, government and other key stakeholders should continue to work together to reduce costs and improve productivity.
About Christie®
Christie Digital Systems USA, Inc. is a global visual technologies company and is a wholly-owned subsidiary of Ushio, Inc., Japan, (JP:6925). Consistently setting the standards by being the first to market some of the world's most advanced projectors and complete system displays, Christie is recognized as one of the most innovative visual technology companies in the world. From retail displays to Hollywood, mission critical command centres to classrooms and training simulators, Christie display solutions and projectors capture the attention of audiences around the world with dynamic and stunning images. Visit http://www.christiedigital.com.