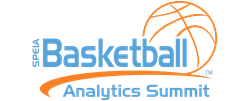 Chapel Hill, NC (PRWEB) February 24, 2016
The third annual Basketball Analytics Summit will be held at the University of North Carolina Kenan-Flagler Business School April 15-16.
Best practices in analytics will be discussed and shared by leading college and professional basketball experts and corporate partners. Professionals, students and academics, who are passionate about or conduct research in the discipline of performance (individual or team) and business analytics, will attend.
The Sport Entrepreneurship and Innovation Association (SPEIA) Basketball Analytics Summit is an initiative of the Frank Hawkins Kenan Institute of Private Enterprise at UNC Kenan-Flagler.
"The Basketball Analytics Summit at UNC stands out because we bring together the best in the business in an intimate setting where we can learn, network and build professional relationships," said Deborah Stroman, director of sport entrepreneurship and community engagement at the Kenan Institute and adjunct associate professor of organizational behavior at UNC Kenan-Flagler. "Many impactful friendships and business partnerships have been generated from this unique conference."
It will include panel discussions, research presentations, networking opportunities and a student case competition. In addition, there will be an overview of a new sport analytics curriculum for secondary schools and the NBA Math Hoops education game.
Speakers will include:

John Skipper, president of ESPN
Ken Pomeroy, No. 1 men's college basketball analyst
Dean Oliver, "grandfather of basketball analytics"
Michael Lorenc, ticketing and live events at Google
Patrick Lucey, director of data science at STATS
Kerry Ruggieri, vice president at Ketchum Sports & Entertainment
Carol Stiff, vice president of ESPNw
Oris Stuart, chief diversity officer at the NBA
Liz Rackoff, director of marketing at the NBA Charlotte Hornets
Will Pleasants, chief operating officer at Wasserman Media
Panel topics include:

Fan experience and engagement
Individual performance and in-game analysis
Marketing and ticketing
Sport science
Careers and entrepreneurship in analytics
The 2016 Basketball Analytics Summit Case Competition is open to full-time students enrolled at an accredited college or university. Undergraduate, graduate and PhD students are eligible to participate and may form teams of three or four members. Each team member must purchase a ticket to to be eligible for participation.
The NBA Charlotte Hornets analytics team will judge the competition. The winning team will receive a $1,000 cash prize.
For more information and to purchase tickets, click here. Teams can sign up for the case competition here following the purchase of a ticket.